It all started when my sister and I were running late for work.  Just before 7 am last August 5, she dropped me off at a mall which was a couple of blocks away from my office. She usually drives me to work, but since we left the house late that morning, I had no choice but to walk more than a kilometer to our building. However, on my way to the office, I dropped by the Krispy Kreme store since I still had a lot of time to spare. Walking into the store that morning was one of the biggest blessings I've had this year. It was the start of a very interesting and heartwarming adventure for me… oh, and for 50 strangers and friends as well.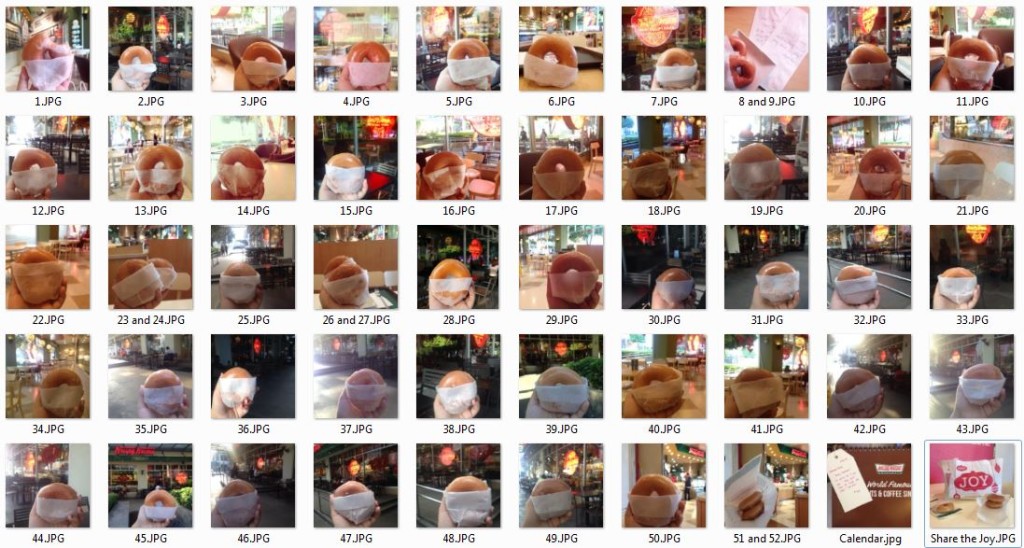 Before I ordered a donut from the store, one of their staff members walked towards me with an original glazed donut in her hand. She cheerfully greeted me and handed me the warm treat. At first, I didn't understand what was happening, but as soon as she showed me the hot light, I remembered how selected stores would give away free donuts when the light is turned on. It was such an encouraging time for me because I was disappointed with myself and my situation that morning. We left the house late which caused me to walk a longer distance to work. But, when I got a free donut, all I could think of was God's grace, provision, thoughtfulness, and goodness.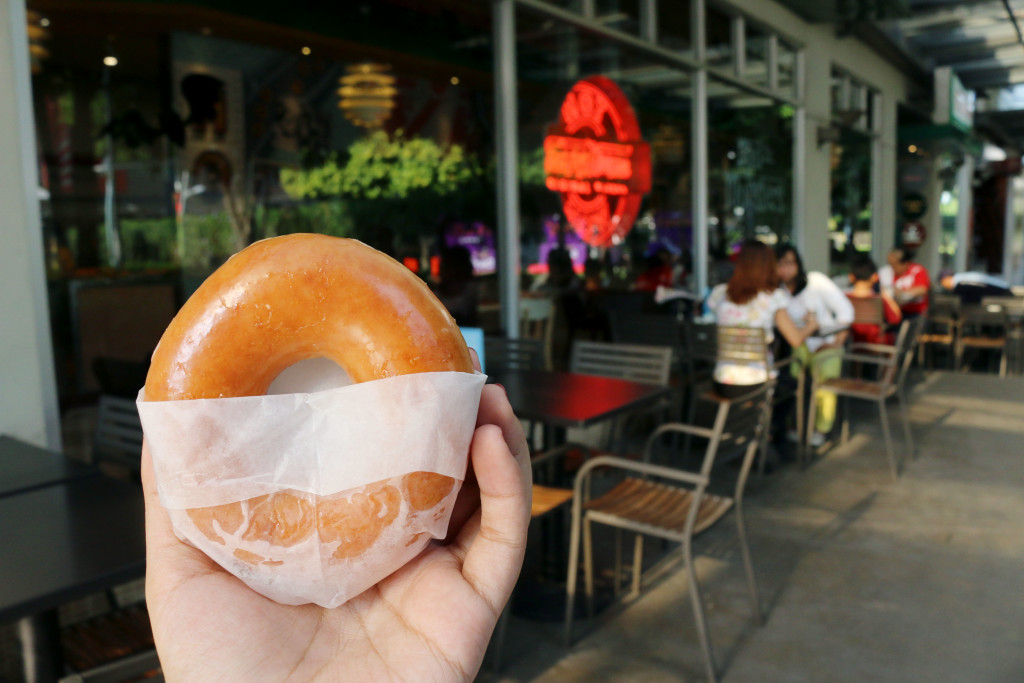 A week later, the same thing happened again. So, I went on my way and passed by the same route I took before. As soon as I reached the street where the Krispy Kreme store was, I noticed that the hot light was turned on again! Without any hesitation, I walked in the store and they handed me a donut… for free. I remember thinking "Seriously? This is so cool. It's my second time to receive a free donut this month!" However, instead of eating the treat, God encouraged me to give it away. I gave the second donut to one of the sweepers near the Krispy Kreme store and it was definitely a blessing to share it with a stranger.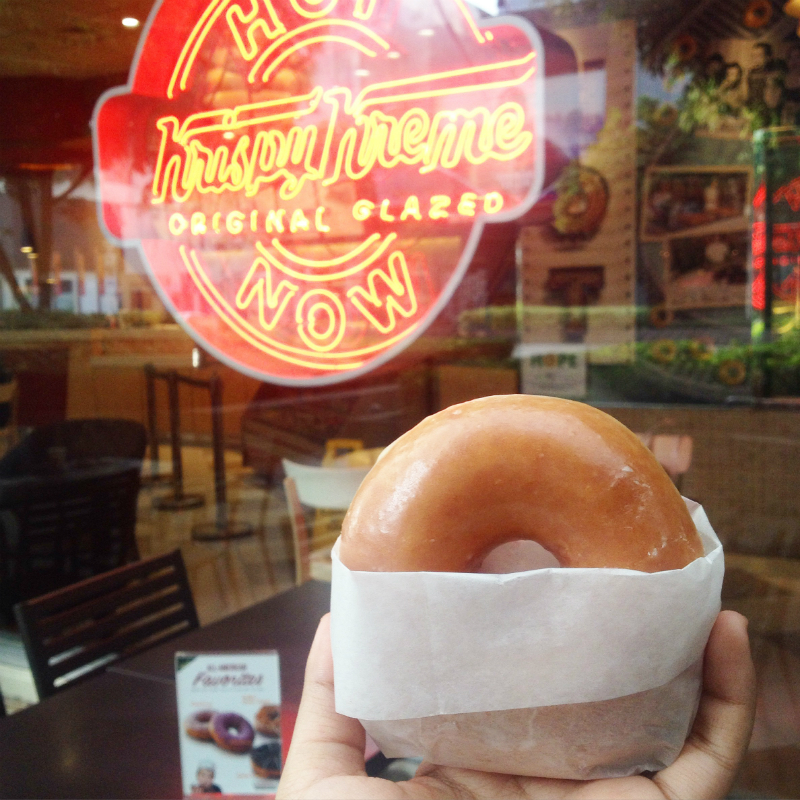 After that day, I told my sister that I was okay with being dropped off a couple of blocks away from our office. When I thought about it, walking that far wasn't that bad. I knew that it would somehow help me spiritually and physically too. (e.g. simple cardio routine in the morning, have an extended quiet time with the Lord before going to work, etc.). So, ever since August, I've been walking more than a kilometer to work every morning, which was a big improvement for me because I was used to bringing a car to work every day for two years. Yay!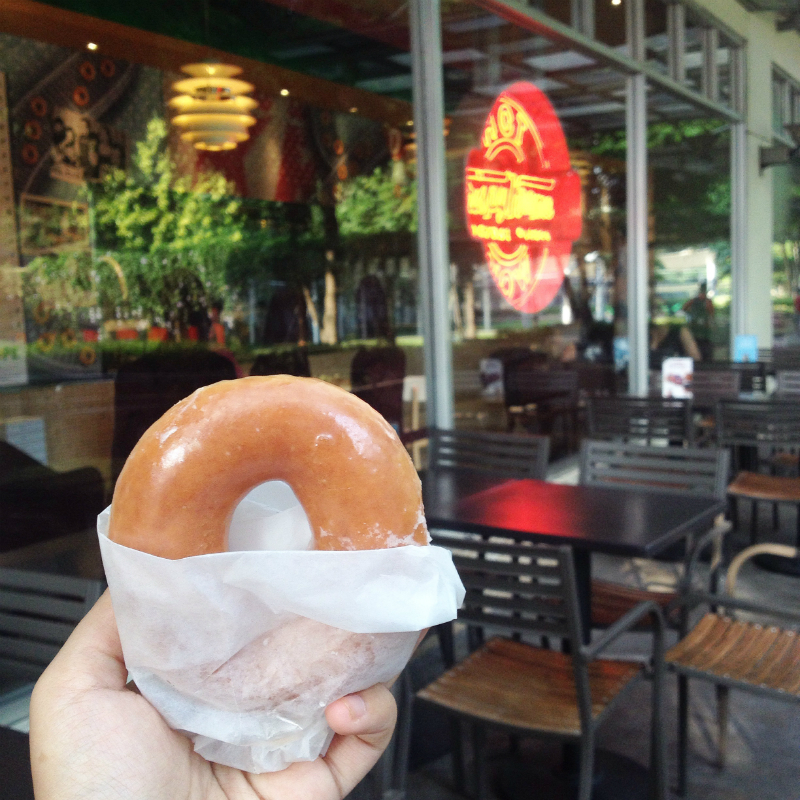 What started out as a disappointment turned into a blessing! As weird and funny as it sounds, in the days, weeks, and months after I got my second free donut, God graciously gave me 50 more opportunities to pass by the store when the hot light was turned on. It was crazy and cool at the same time. Also, when I received the 16th free donut last Sept. 16, I was encouraged to continue sharing the treats to the strangers around me. Somehow, I was encouraged to keep on extending His love and goodness to others by sharing the free donuts that I receive. I usually get one free donut in a day. But, there were some instances when I got two.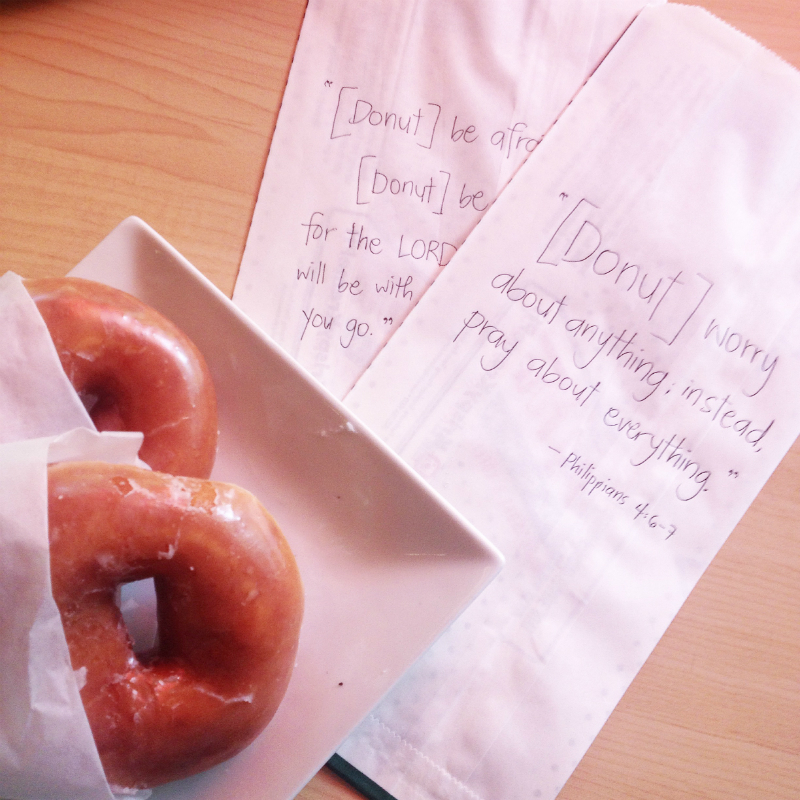 In the last four months, I've had the privilege of giving away 50 free, original glazed donuts to 50 friendly strangers and friends in the area. It's so amazing how God used this experience to speak to my heart. It's also interesting how Krispy Kreme operates by the motto: "Share the Joy". As I type this entry on Christmas day, I can't help but be reminded of the best kind of joy that we can ever experience and share. And it comes from the best gift that I've received in my life – JESUS. More than receiving free donuts and having the joy of sharing treats to others, my heart is blessed by the truth that God sent His one and only son, Jesus, to die on the cross and rise again many years ago. He saved us from our sins and He became the only way for us to spend eternity with Him in Heaven. Amazing grace, indeed!
"But God demonstrates his own love for us in this: While we were still sinners, Christ died for us."-Romans 5:8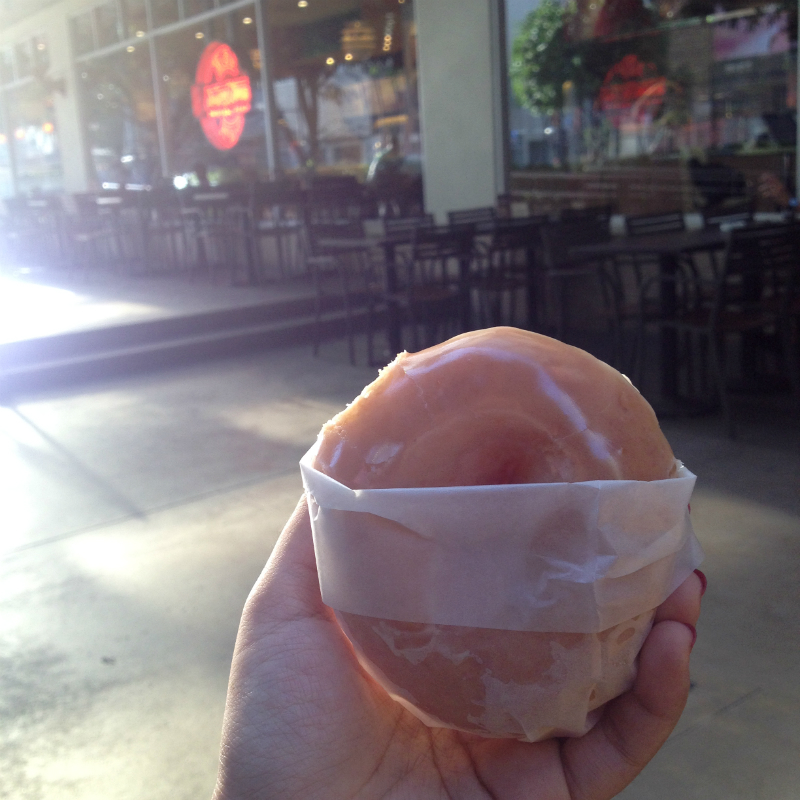 Here are some of the things that I've learned by giving away free Krispy Kreme donuts this year:
1. You can't give what you don't have. – If it weren't for the hot light, I wouldn't have been able to receive and share the free donuts. In the same way, because I've experienced joy, peace, and hope in Jesus, I also want to share it with you too. This Christmas season, I pray that we would be encouraged to know, experience, and share Him to others too.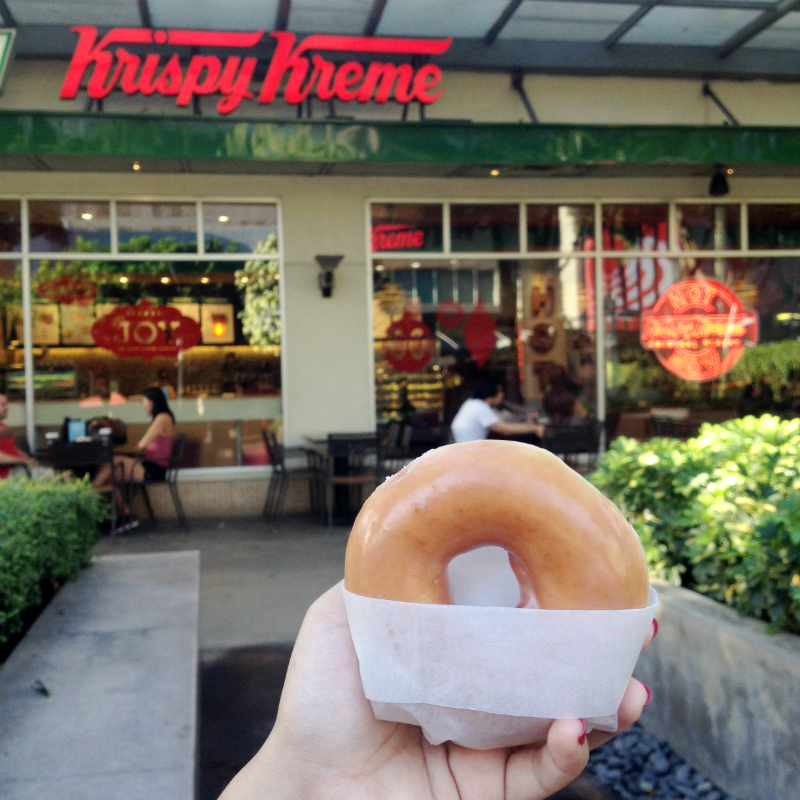 2. Even when you don't feel like giving, still give. – There were days when I passed by the store and saw the hot light turned on, but I didn't feel like getting a free donut and giving it to a stranger. Being the introvert that I am, I usually prefer to just do my own thing. But through the experience, I was encouraged to selflessly give and share the resources that I have to others every time I can, especially if it would help them feel God's love and goodness.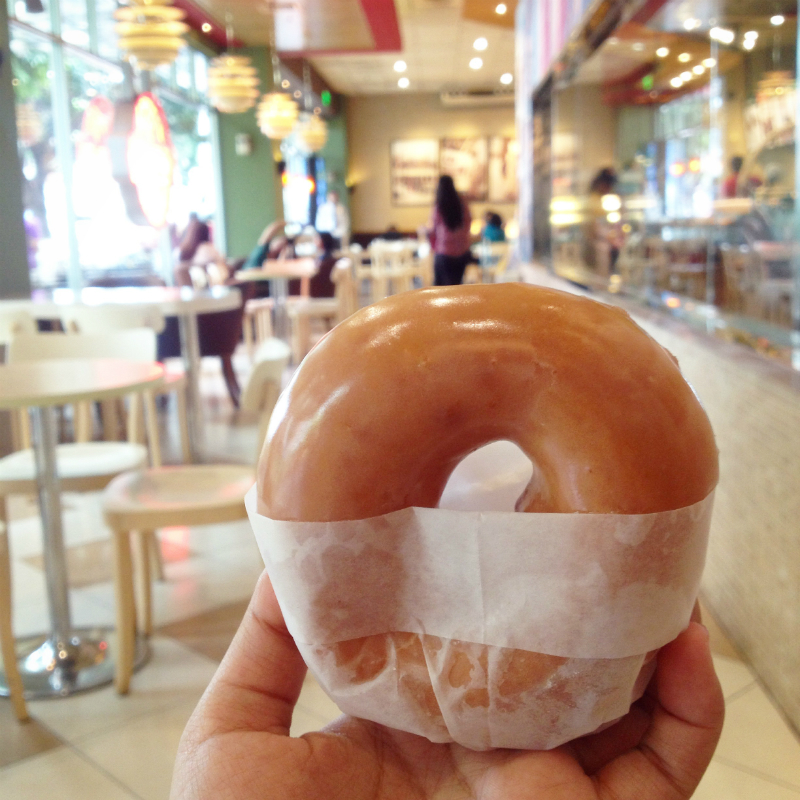 3. Sometimes, people will reject you and/or what you share, but don't let it stop you from sharing what you have. – In the past four months, I think I've experienced 3-4 rejections from strangers. I would usually smile and say "Hi! Would you like a free donut from Krispy Kreme?" Usually, the strangers would give me a big smile and say "Wow! Sure! Thank you!". But, there were a few who gave me a weird/serious look and responded negatively. Sometimes, it made me feel conscious about myself. But, afterwards, I was reminded that giving away the free donuts wasn't about me, but about the sincere desire to share to others; to help them experience the same joy that I had.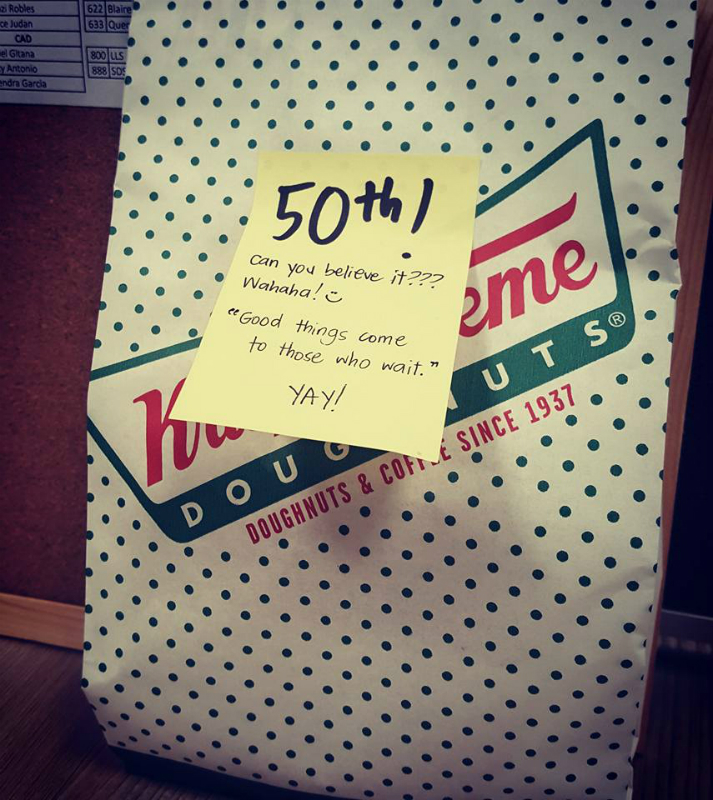 4. A small act of encouragement goes a long way. – Every now and then, strangers, family, and friends need encouragement. It may seem like a trivial thing to do, but I am encouraged to be a blessing to others even through the simplest things (e.g. sharing bible verses to a friend who is going through a difficult time, praying for and with a family member, listening to a friend, etc.).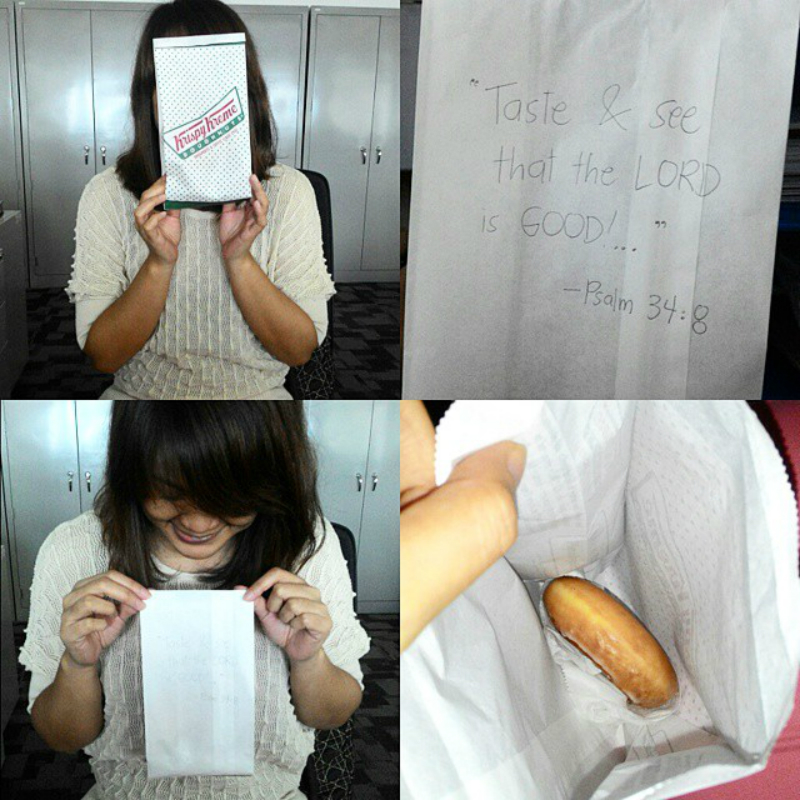 This Christmas, one of my officemates gave me a Krispy Kreme calendar as a gift. It made me smile because it reminded me of the experience that I had this year. I was sincerely happy with the calendar itself. But, after a few hours, I realized that the calendar had coupons for free donuts/drinks and it had discounts too! In her greeting, she said "I am giving this to you because I know that you will be sharing the treats to others too." Hahaha! I loved the idea! When I first gave a donut away, I didn't think it would lead me to give 49 more donuts to random people by the end of the year. But, God has His way of using ordinary people to bless others too. I hope and pray that you, dear reader, would be encouraged to know and share the Joy that we have in Jesus as we welcome a new year.
Merry Christmas! :)