Yesterday, I went to the grocery store and I got myself ingredients for Shrimp in Sour Tamarind Soup. This dish is also known as SINIGANG NA HIPON. Haha. For the past years, my mom has been making Sinigang using the commercially sold instant Sinigang mix. However, this time, I wanted to try cooking Sinigang by using only natural ingredients.
At first, I was enjoying myself while I was preparing the ingredients. Siyempre! I was cooking Sinigang, tapos Hipon pa! :)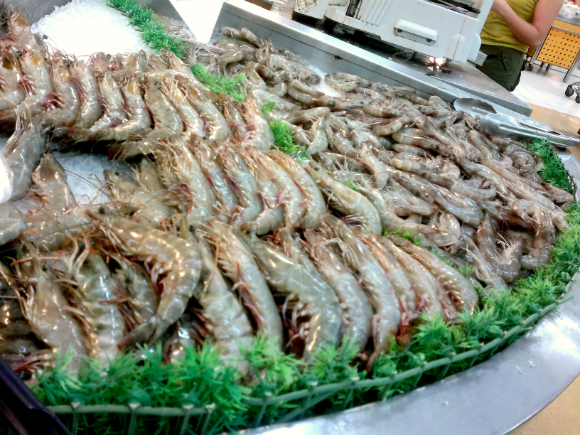 However, halfway through the process, I was already feeling tired and getting impatient because I had to mash the boiled tamarind with seeds to get its puree (which was the main ingredient in the dish).
I think it took me around 45 minutes just to get the needed amount of puree. HAHA! I was actually telling myself, "Nicole, just use the instant Sinigang mix. It would be much easier. It will only take a few seconds to pour it into the dish." But for some reason, God encouraged me to continue mashing the fresh tamarind. After 2 hours of preparing and cooking, by God's grace, I was able to produce my first Sinigang na Hipon from scratch! :)
While I was mashing the tamarind, I was having a conversation with God. And it was awesome because I realized that He was actually teaching me to BE PATIENT…again. Forty-five minutes of getting and putting the tamarind puree in the dish vs. a few seconds of putting the instant Sinigang mix was actually a no-brainer. Of course, we would prefer the fast and easy way. But, in order for me to make a healthier Sinigang na Hipon dish (using only natural ingredients), I knew I had to patiently mash the tamarind.
I found myself enjoying my tamarind moment because I was actually able to spend time talking to God and listening to Him. He then reminded me of a similar experience that I had with Sinigang before.
About TWO YEARS AGO, I saw our helper cook Sinigang na hipon. My heart leaped the moment I saw the kangkong, onions, shrimps and other ingredients in the kitchen.
I was really excited to eat it that I kept on telling my siblings how happy I was because we were having Sinigang na Hipon for lunch. I even tried to control myself from eating snacks so that I wouldn't spoil my appetite.
I decided to wait in the kitchen because I was hoping that our helper would finish cooking it. However, she realized that she lacked some of the instant Sinigang mix. Our helper had to postpone cooking and wait for mom who was still buying groceries.
When I found out about it, I started to get impatient because I wanted to eat Sinigang already. However, I decided to wait for mom because I knew that without the extra spice, the Sinigang would not taste great.
While waiting for mom, I found myself helping prepare the other dishes for lunch and cleaning the kitchen, living room and our bedroom too. And after about two hours of preparing and cleaning, I realized that mom had already put the needed spice and finished cooking the dish.
Finally, mom called us for lunch. I got a bowl and filled it with the hot soup, shrimps, kangkong, gabi and other vegetables. I couldn't believe it! SOBRANG SARAP! I was smiling while I was eating my share and was indeed very grateful for it.
Surprisingly, I learned two important things during my Sinigang experience that day.
FIRST, GOD MADE ME REALIZE HOW IMPORTANT IT IS TO WAIT ON HIM.
Let's be honest. Who loves to wait? NO ONE. Haha. Okay, so maybe a few out there are actually fond of waiting. However, I guess, most of the time, when we want something, we want to have them NOW. I don't know about you, but honestly, waiting is not really the number one thing that I love to do, especially if the period of waiting is uncertain.
I guess it is challenging to wait in any situation. Right now, I'm actually waiting for certain things to happen in my life and I can tell you that it is a struggle. There are even times when I am tempted to just take what's in front of me and not think about whether it is God's will for me or not.
In my Sinigang na Hipon moment, I realized that if I didn't wait for mom to put the extra spice in the soup, I would not have enjoyed my lunch that day because of it's so-so sour flavor. Also, I appreciated the fact that God encouraged me to help prepare the other dishes and clean while I was waiting for the Sinigang.
I know that I've already done some things in the past that show how I did things my way in "my time" and did not choose to wait on God. But by His grace, I know I can improve more as He continues to teach me to wait on His perfect timing. Why? It's because I believe that He knows better than us and in the process of waiting, He can actually help us develop and prepare ourselves even more.
Biblically, waiting is not just something we have to do until we get what we want. Waiting is part of the process of becoming what God wants us to be. – John Ortberg
Is there something in your life that you really want to do or have now but somehow God is telling you to wait more?
Well, I just want to encourage you to keep on waiting proactively and to trust that God will give it to you if He thinks it will be the best for you. If He does give it, then praise Him! However, if He chooses not to give it to us (whatever that may be) then we can praise Him even more, because He definitely loves us so much not to give us what is less than best!
PSALM 130:5 "I wait for the Lord, my soul waits, and in his word I put my hope."
SECOND, GOD WAS SHOWING ME HOW HE LONGS FOR US TO LONG MORE FOR HIM EACH DAY!
I longed for Sinigang na Hipon so much that I kept on telling my siblings how happy I was that we were having Sinigang. I even stayed in the kitchen just because I was so excited to see the result and taste the Sinigang.
In that moment, God gently rebuked me: "Nicole, do you also get that excited when you think of Me, bond with Me, or even share Me to the people around you?" And it hit me! "Oo nga noh, Lord. Honestly, not all the time." :(
What's amazing with God is that He is FAITHFUL and GRACIOUS, still, in spite of us. And every time I remember how good He has been, I can't help but want to get to know Him more! :)
Two years have passed and God continues to use something that I love (Sinigang na Hipon) to speak to my heart. :)
Are you waiting for "the cook to finish making your sinigang dish"?
Is your patience tested as "you're mashing the tamarind to get the puree"?
Are you waiting for your prayers to be answered? For answers to your questions in life?
As we wait on God, I hope that we can spend the time that we have to seek Him more (through prayer or the Bible). We may not always know why things happen or when things would happen in our lives, but we can be secure in our God who is the Alpha and Omega, the Beginning and the End. He knows our hearts, our desires, what is best for us, and He is always in control.
Psalm 9:10
Those who know your name will trust in you, for you, LORD, have never forsaken those who seek you.
Jeremiah 29:13
You will seek me and find me when you seek me with all your heart.
SHRIMP IN SOUR TAMARIND SOUP
Ingredients (estimated):
6 tablespoons of Tamarind puree (about half a kilo of tamarind)
2 tablespoons of salt (you can adjust this according to your preferred taste)
9-10 cups of water
1/2 kilo of shrimps (you can add more if you want)
1/2 kilo Gabi
1 stalk of kangkong
6 tomatoes (cubes or quarters)
2 onions
5 pcs. of okra
2 pcs. green sili
*you can add more vegetables if you want, such as radish, eggplant, sitaw, etc.
Steps:
1. Boil half a kilo of raw tamarind for about 6 minutes (or until ready for mashing).
2. Peel off the outer covering of the tamarind fruits and place the meat (with seeds) on a strainer over a bowl.
3. Carefully mash the tamarind and press it firmly on the strainer to get the puree.
4. Place the pureed tamarind on a separate bowl.
5. Boil water and add the onions and tomatoes in a large pot.
6. Add the pieces of gabi and boil for 10 minutes (or less). It depends on your preferred texture and the type of gabi.
7. Add the pureed tamarind to the mixture in the pot and stir well.
8. Add salt.
9. Add the shrimp and let it cook for about 4 minutes.
10. Remove the shrimps from the pot and place in a separate container (to prevent them from being overcooked)
11. Taste the dish and add salt/water/tamarind puree if you want to make adjustments.
12. Add the green sili to the soup.
13. Add the kangkong leaves and stalks and okra. (If you want them to keep their bright green color, let them boil for 5-8 seconds in the soup and remove them immediately. Place the kangkong and okra in a separate container and serve them only when the dish is ready. If you let the kangkong and okra boil in the soup, they will have a light and pale color.)
14. Turn off the heat, add in the shrimps again (and the kangkong if you want them to be cooked further) and taste for the last time before serving.
15. Enjoy! :)
Encourage yourself one treat at a time! :)