On the weekend of my birthday, I decided to book a room at a resort in Laiya since I was attending a wedding in the area too. I found numerous affordable and expensive resorts along Laiya, Batangas. But, what caught my attention about Laiya Coco Grove was their unique accommodation. They offered rooms inside beautiful treehouses. Thankfully, there were still available slots a week before my birthday.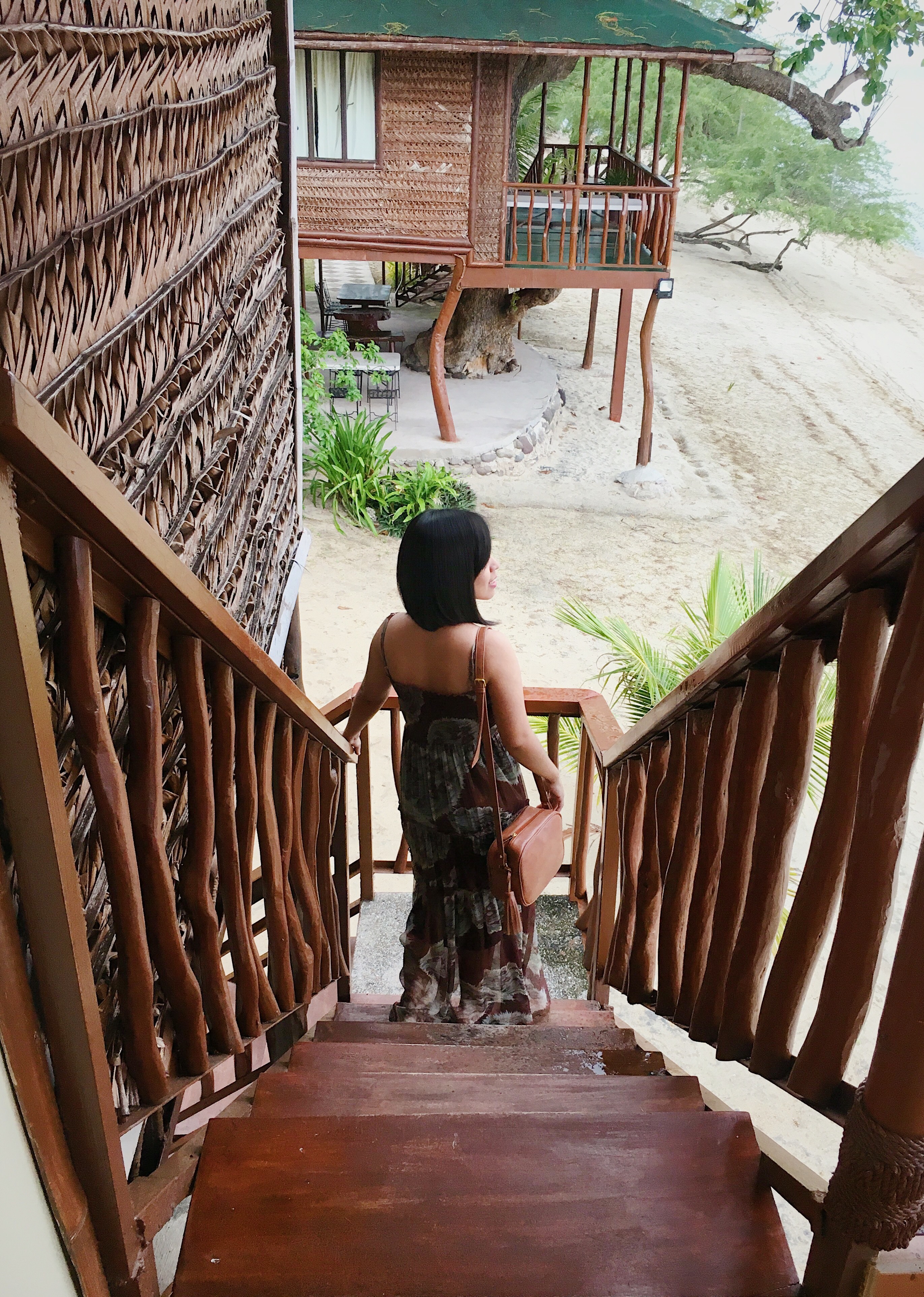 I booked an overnight stay at the Couple Room Treehouse. I was supposed to go there alone, but my sister decided the night before that she would join me. Inside Laiya Coco Grove, you'll also have the option of staying inside the cabin rooms or dormitories which are much cheaper. But, do note that they have shared facilities with other guests. I preferred to stay at the Treehouse room since it seemed like a better adventure for me. Haha!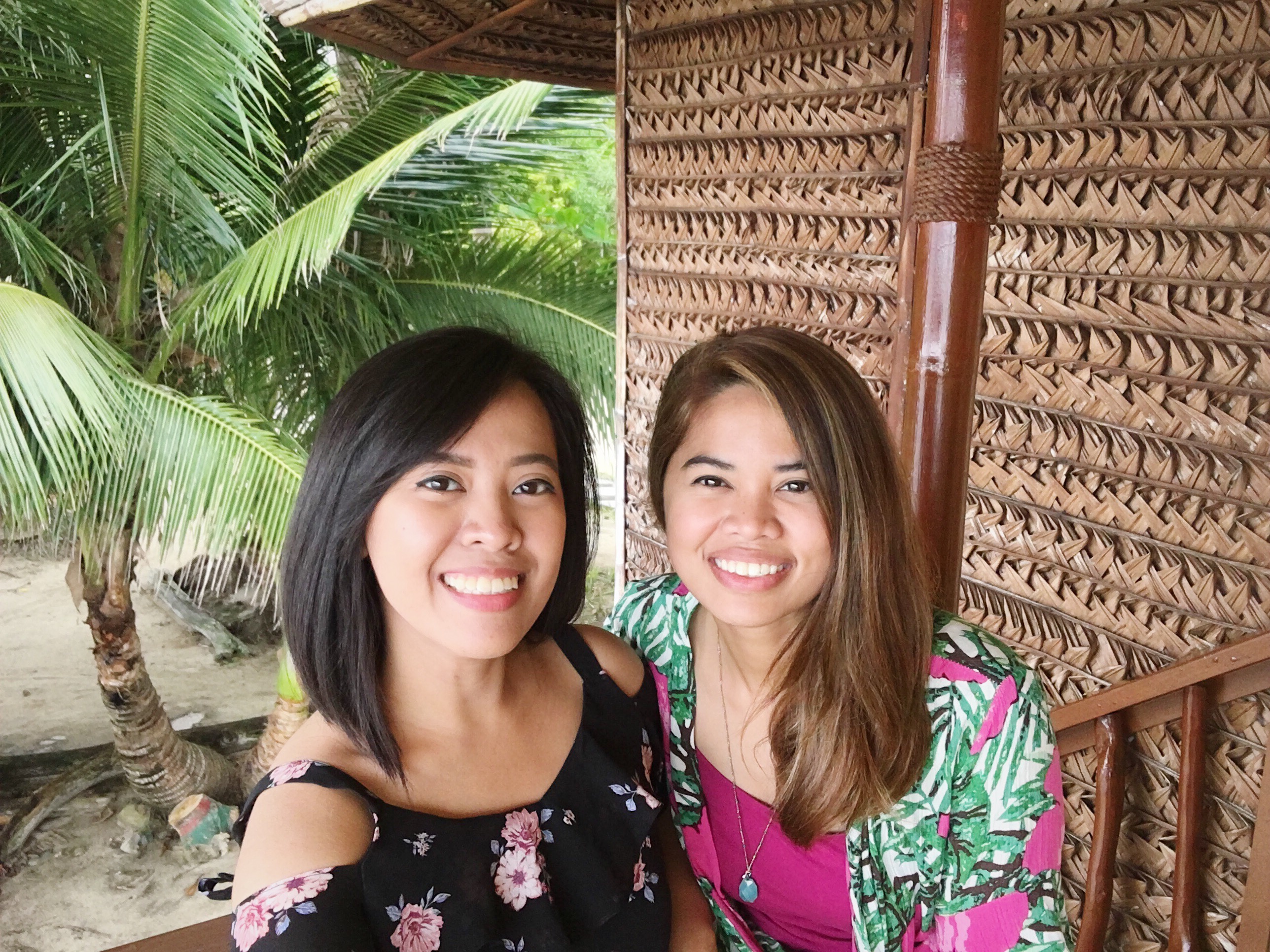 If you're thinking of visiting Laiya Coco Grove, here are some of the things you may want to consider:
1. It is a 4-hour drive from Manila
This includes your time for stopovers. You can either go to the resort via private car (which can be searched using the Waze app) or by public transportation (directions seen in the photo below). My sister and I travelled via car, while my brother followed via public transportation (Bus-Van-Jeep). If you'll be commuting, it's safe to leave an hour earlier so that you'll have extra time for queues.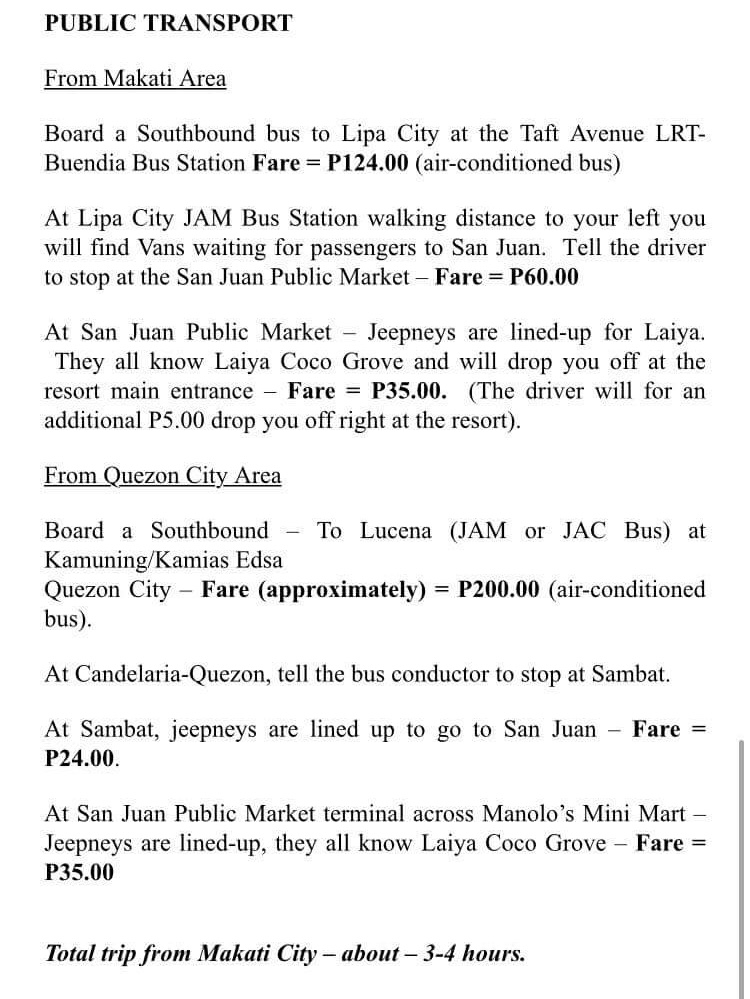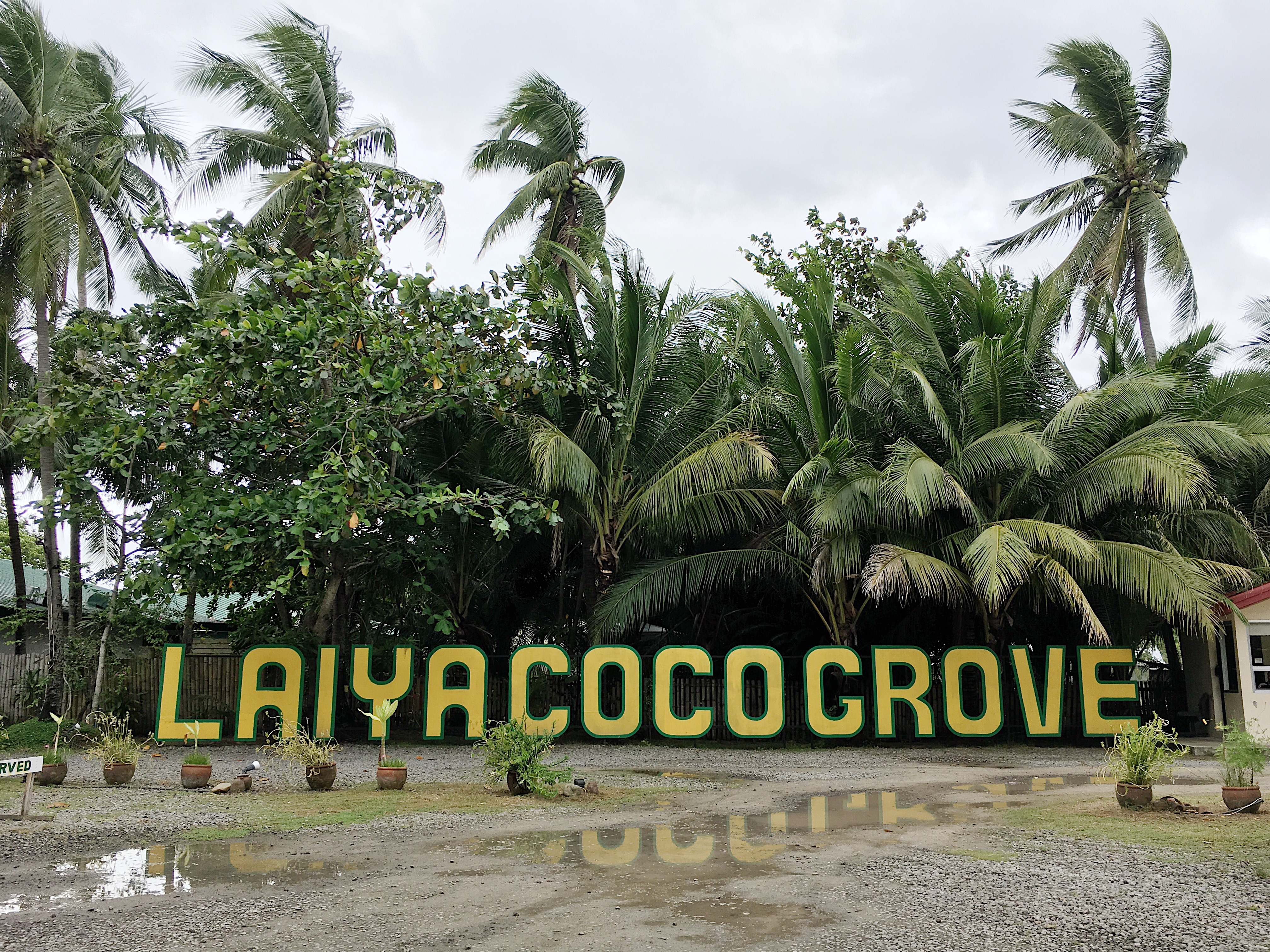 My brother mentioned that the directions given by the resort were more or less accurate. One tip, though, is that the bus can drop you off at SM Lipa where you'll find vans heading towards San Juan Public Market. Also, upon reaching the market, you might have to ask where the jeepneys to the resorts are. They're not easily seen in the area. Regarding the exact directions on commuting back to Manila, you may try to ask Coco Grove via email. Sorry, I don't have any experience on this. Most likely, it will be via jeep, van, and bus again.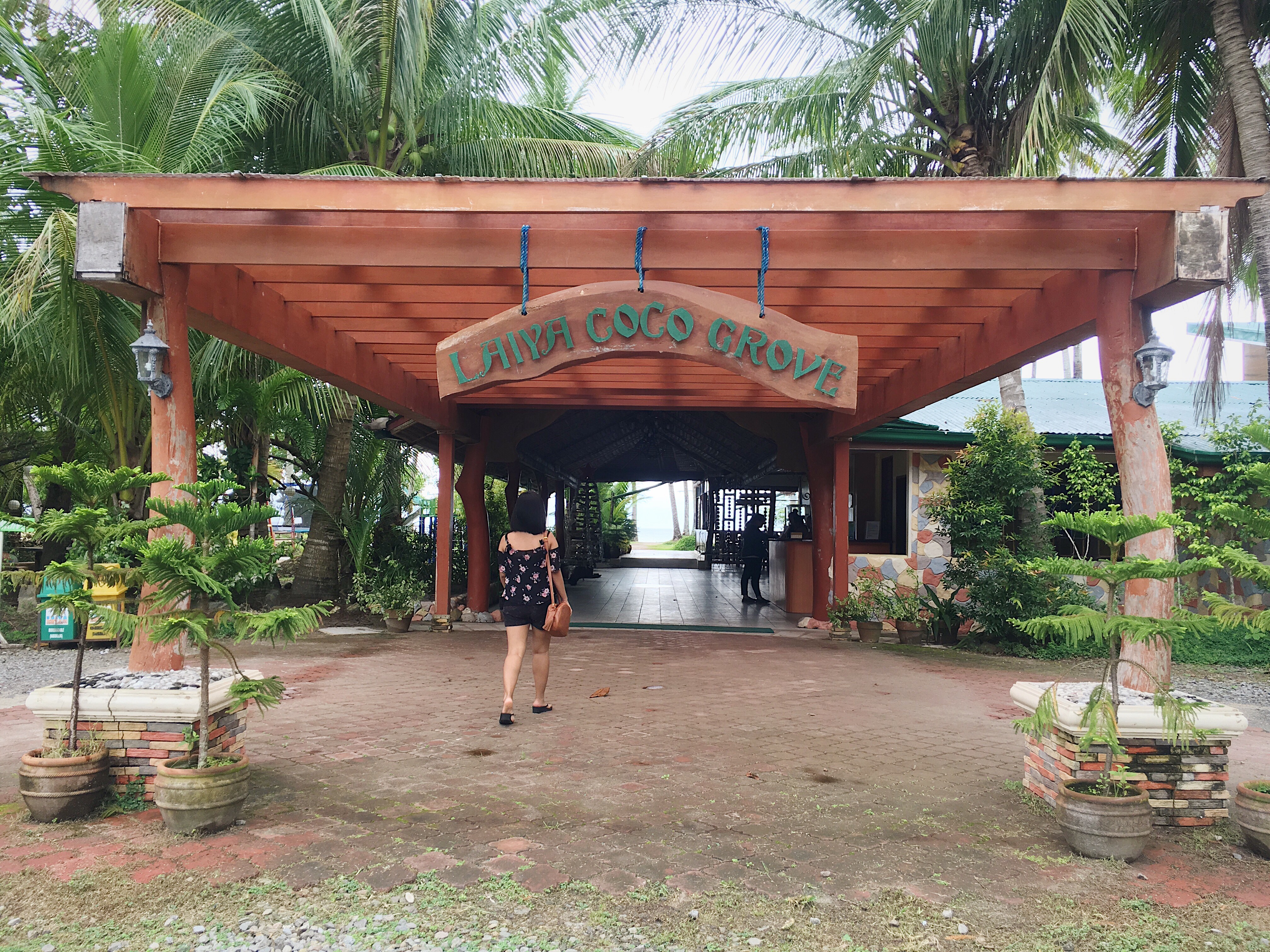 2. The staff members are nice and polite.
From the time we passed through their main gate to the time we checked in our rooms, we were greeted by smiling staff members at the resort. Also, when we had an issue with the loose door knob at our treehouse, their mechanic immediately fixed it.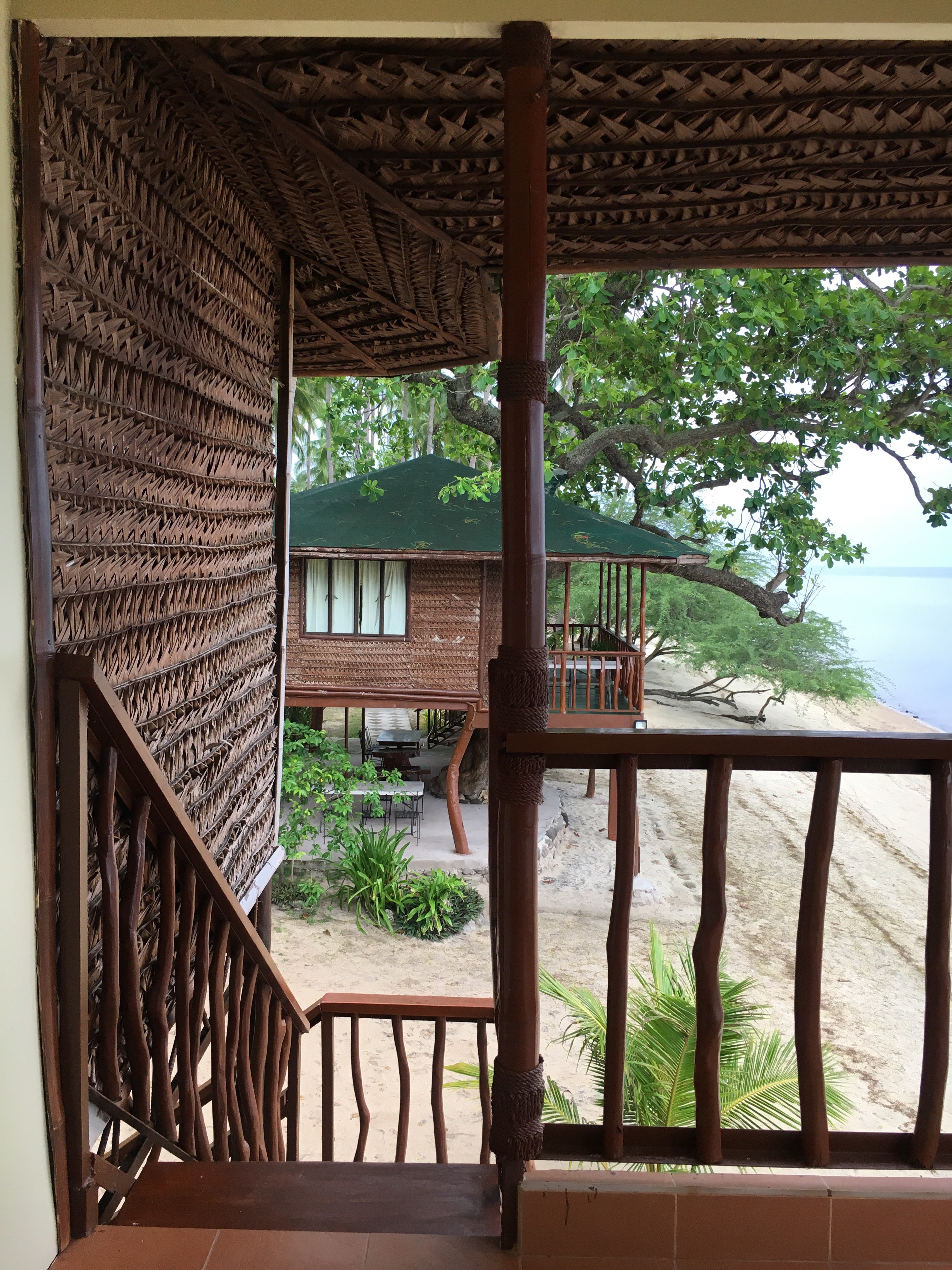 3. Wi-fi signal is very poor
We were able to connect to their Wi-Fi, but we couldn't load anything online. We had to use our mobile data (3G at most) for the duration of our stay. But, the good thing about this is it gives you a very relaxing time at the beach. No Wi-Fi, no worries. Haha! Just make sure you finish researching everything you need when you're still in the city.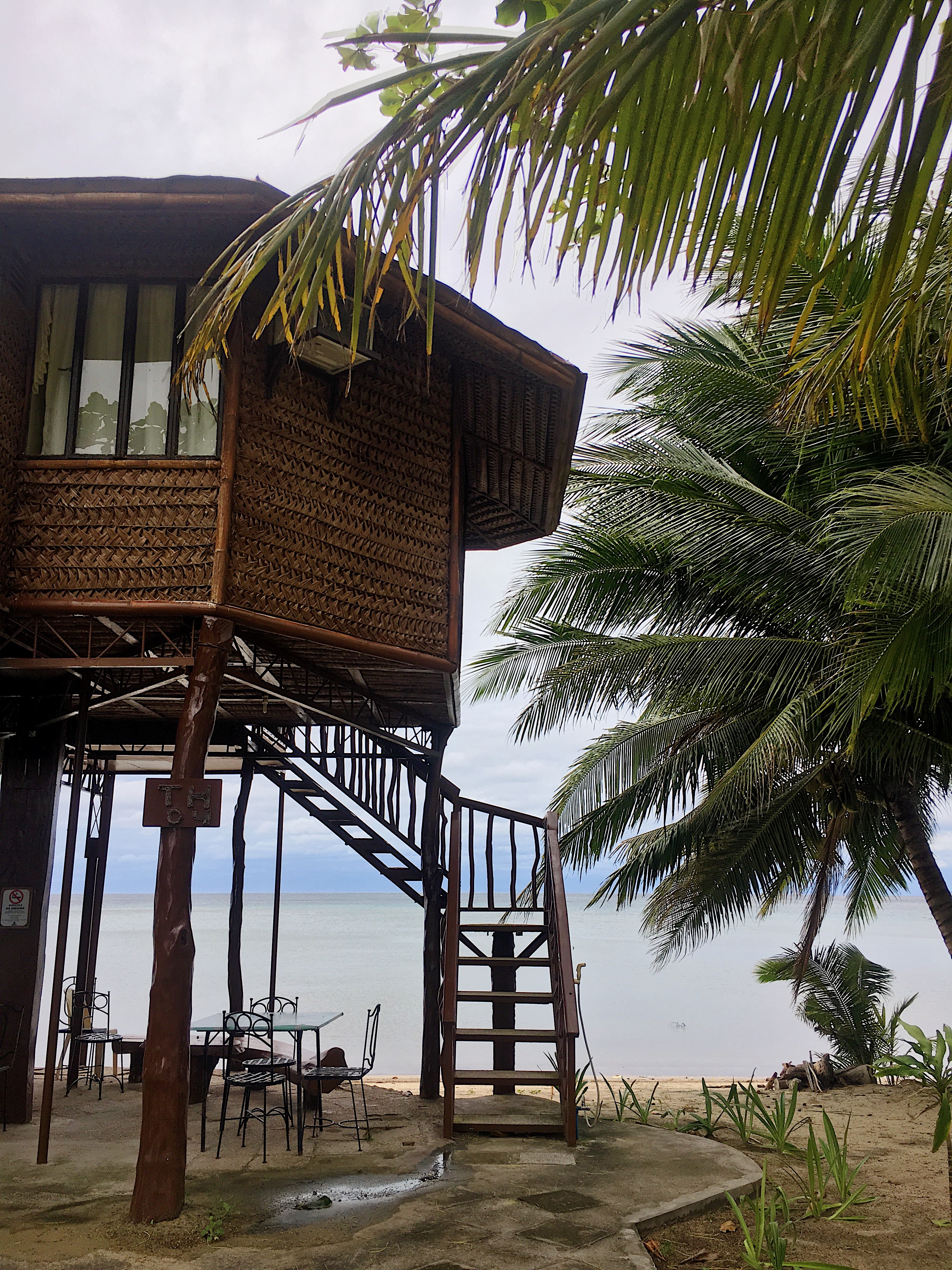 4. Their food was average
The meals they provided during the buffet times were just okay. They did not taste bad, but they also weren't excellent for me. Don't expect much if you'll avail their buffet meals. Do note that buffet meals are REQUIRED in the treehouse packages. In a buffet meal, you'll expect to see one type of fruit juice, soup, and dessert. You'll also have three to four options of viands with rice and a set of condiments. Drinking water is also available. Brewed coffee is served only during breakfast.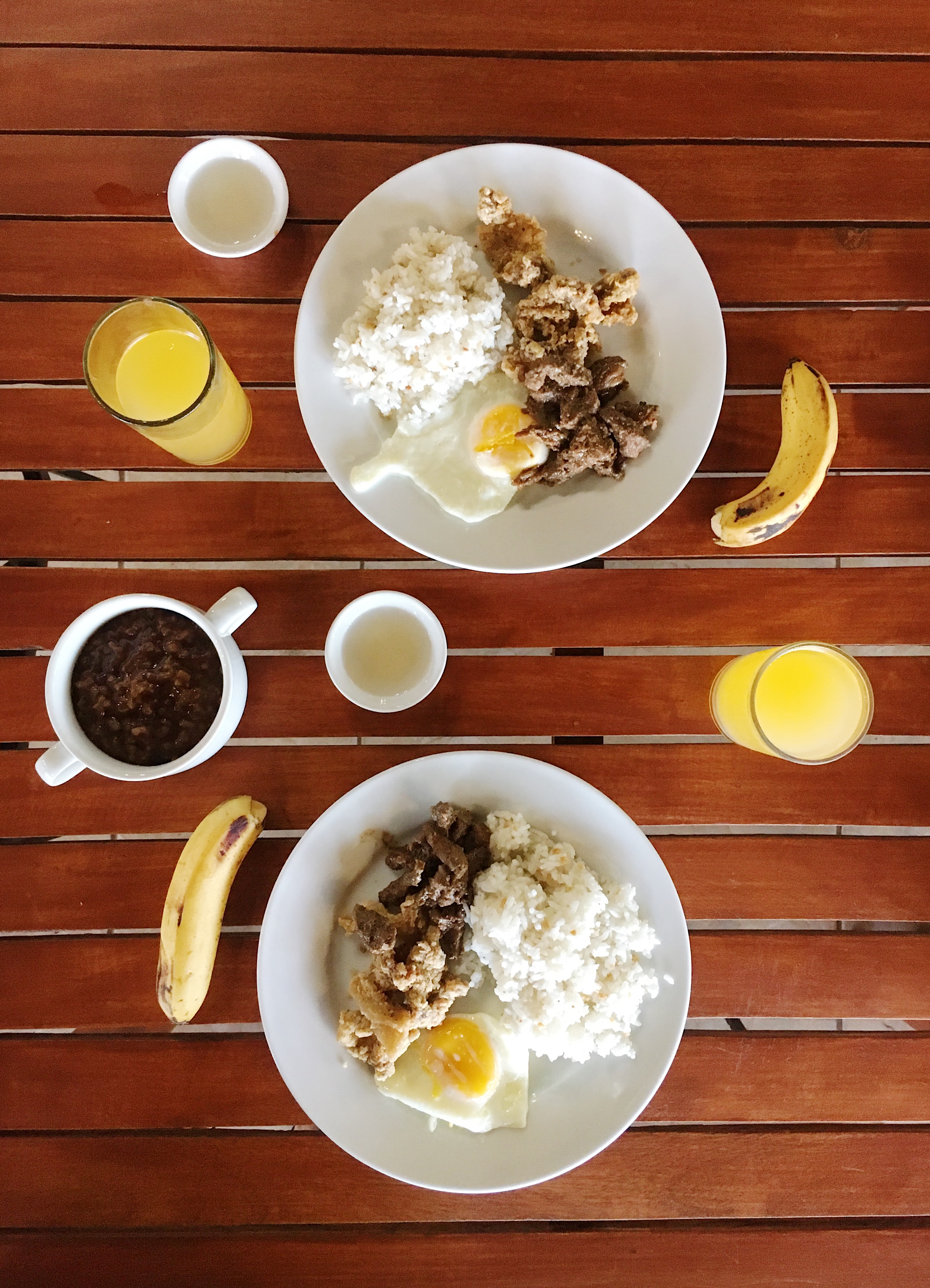 I requested for fresh buko juice twice, but unfortunately, they denied me twice since they didn't have staff members who could safely go up the trees and get fresh ones. It was too risky since it was raining that weekend. Oh well. We bought fruit juices in cans instead. Haha!
Breakfast – 7:00 am to 9:00 am
Lunch – 12:00 nn to 2:00 pm
Dinner – 7:00 pm to 9:00 pm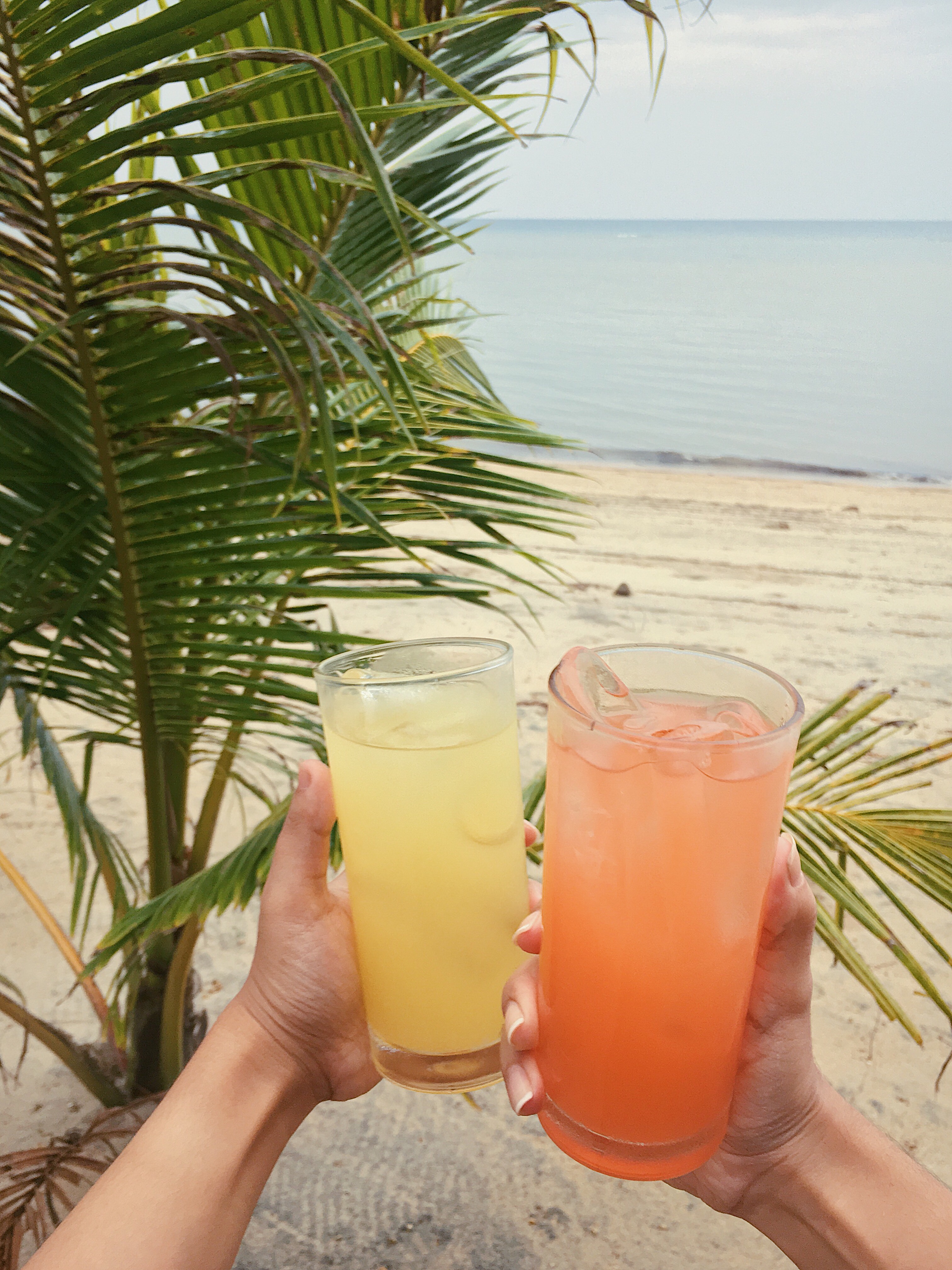 5. The couple treehouse room was the best part about it!
It's not everyday that you get to sleep inside a room with a huge trunk in it. Unless of course, you're blessed with a treehouse in your area. Hehe. But for me, it was my first time to experience it. We didn't need to turn on the air-conditioner during our first day and night because it was raining. So, the weather was cool. But, the next day, it was bright and sunny! So, turning it on at that time was very useful.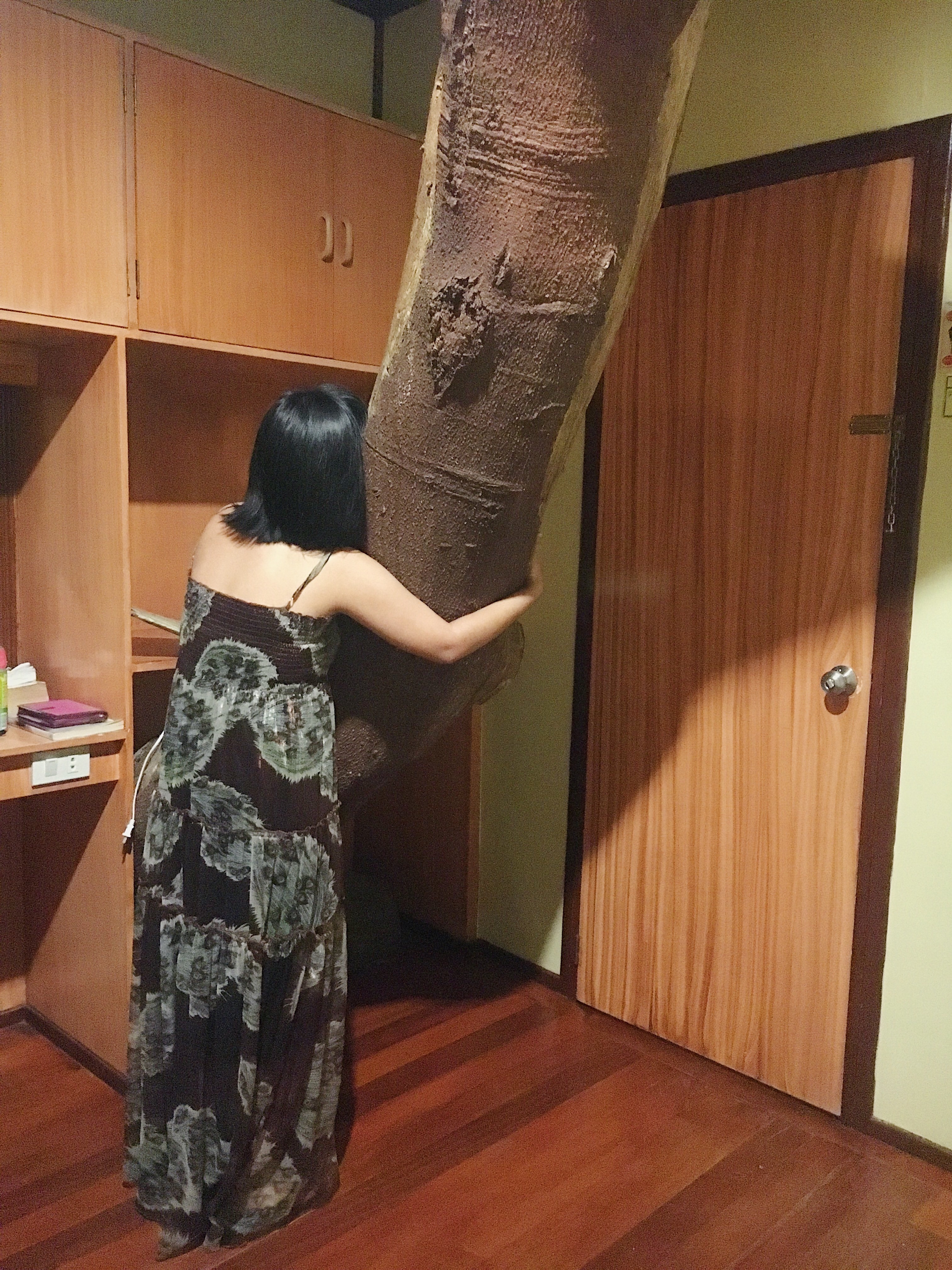 The room includes windows, a mirror, small cabinet which has bottles of water and coffee cups. It also has a bed for two people, a side table, and a comfort room complete with a shower (with heater), toilet, sink, and mirror. It also has a small balcony with a table and two chairs overlooking the beachfront. Moreover, when you go down the steps, you'll see an area with a few more tables, chairs, and a log where you can hang out.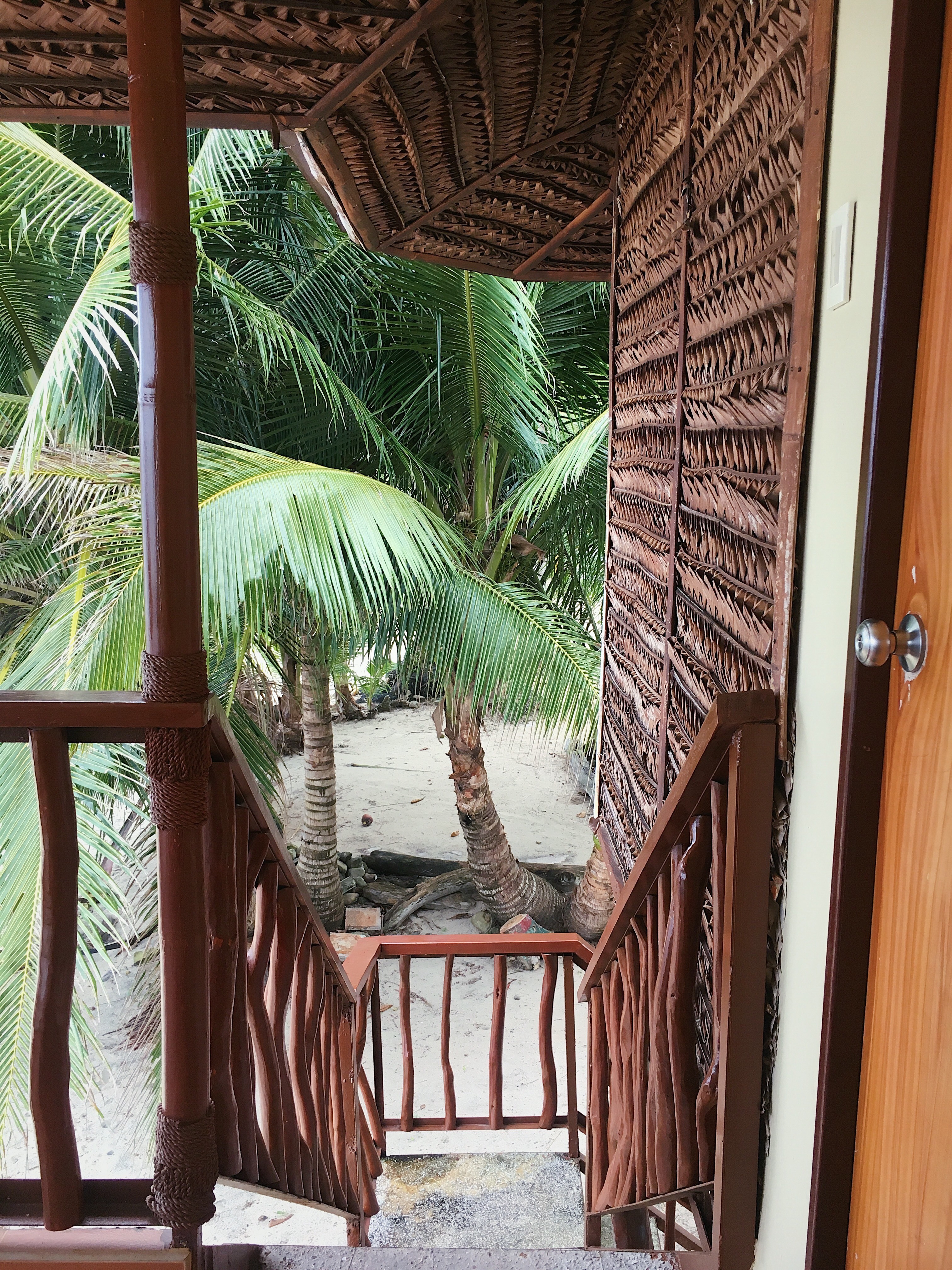 They provide an umbrella inside the room and a bidet spray before you go up the steps, so you can wash the sand off. One downside to sleeping in the treehouse is it sometimes shakes. We noticed this when the wind became stronger. It still is sturdy, but if you have motion sickness, you might feel a slight discomfort at first.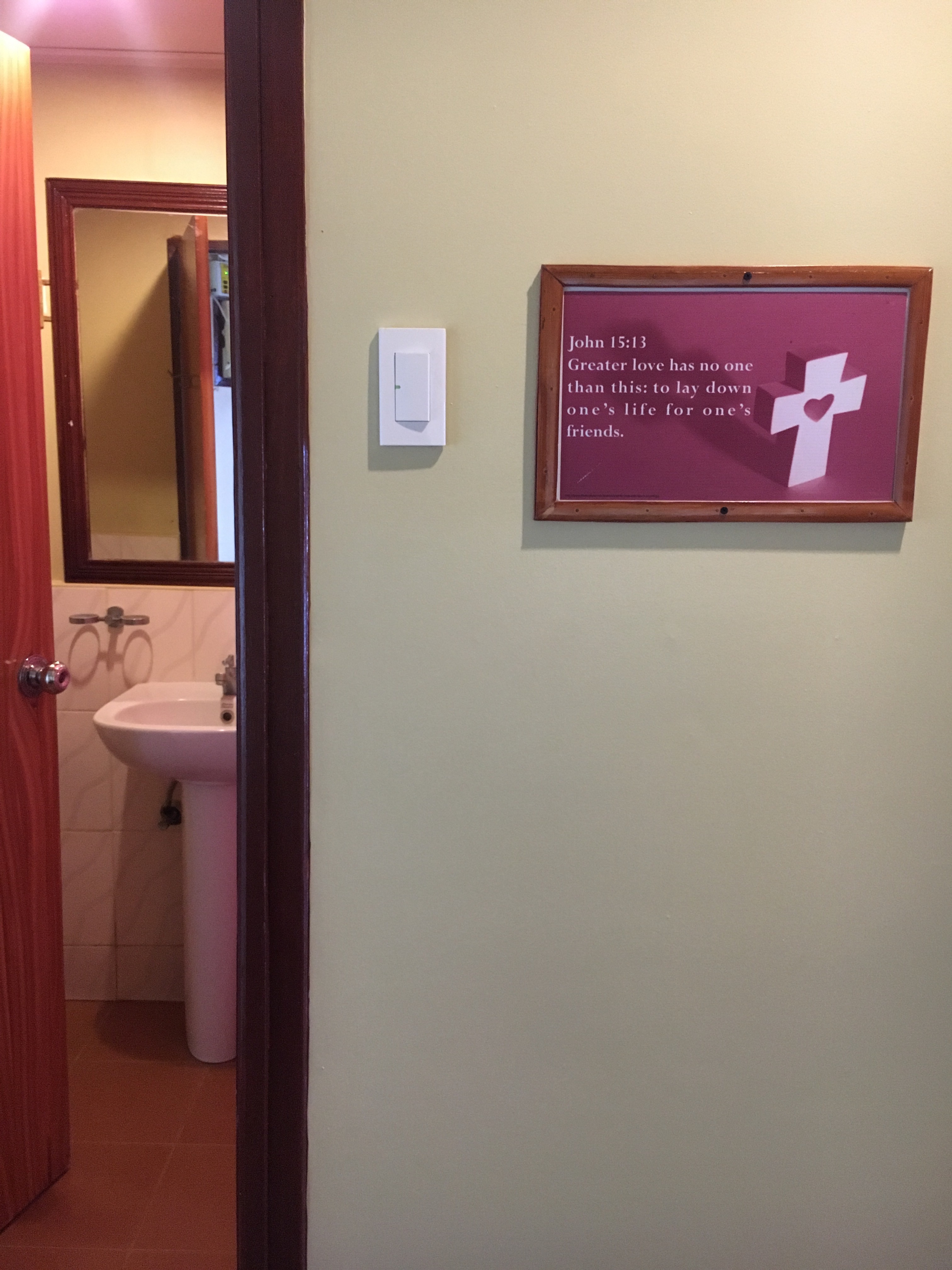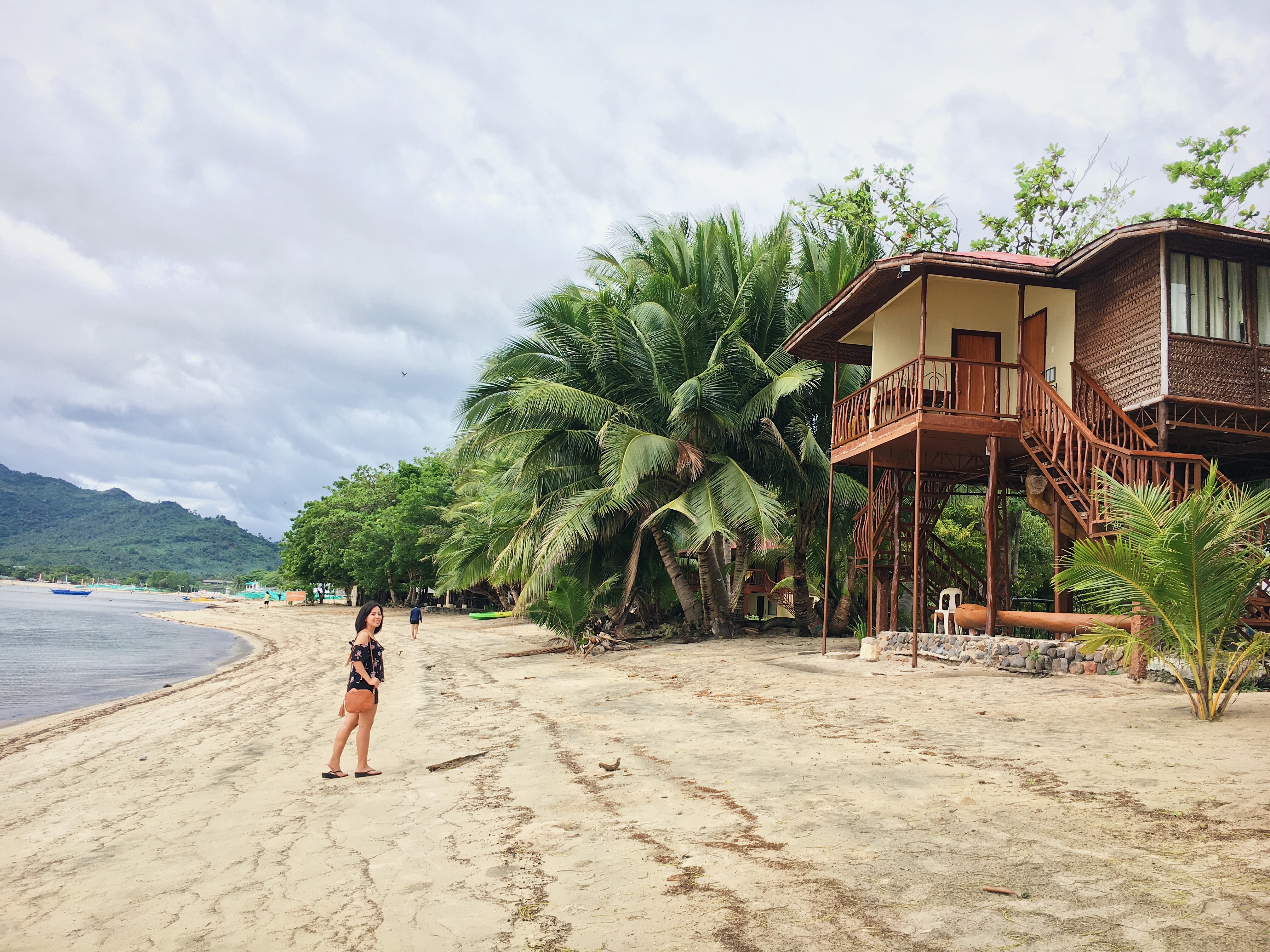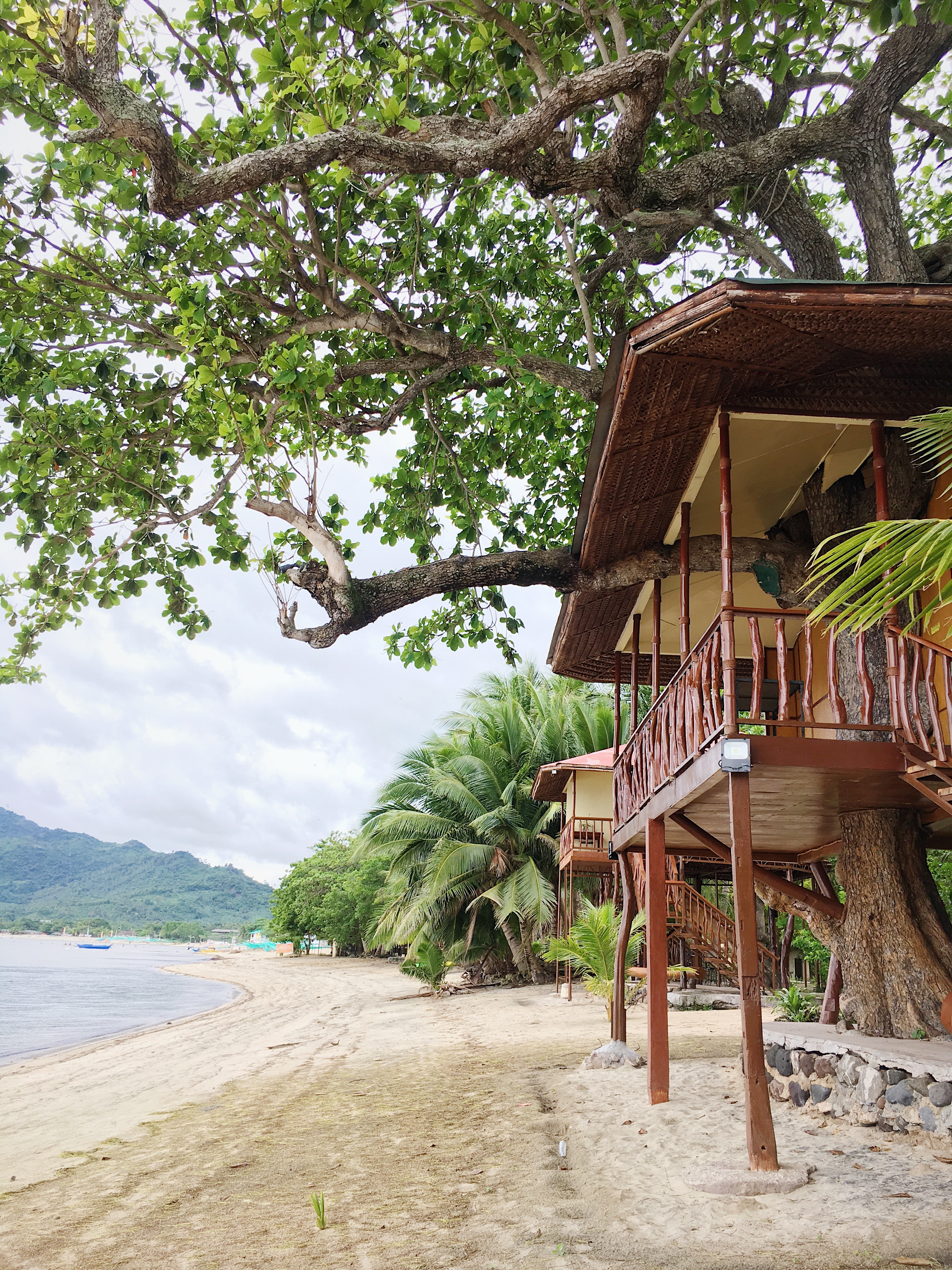 6. The resort has two sections
First: The Main Resort
This includes the treehouses, cabins, and dormitories for overnight stays. It also has a small beachfront area, cafeteria, trampoline, swimming pool, game area (with billiards and pingpong), chapel, public restrooms, bar area, and parking.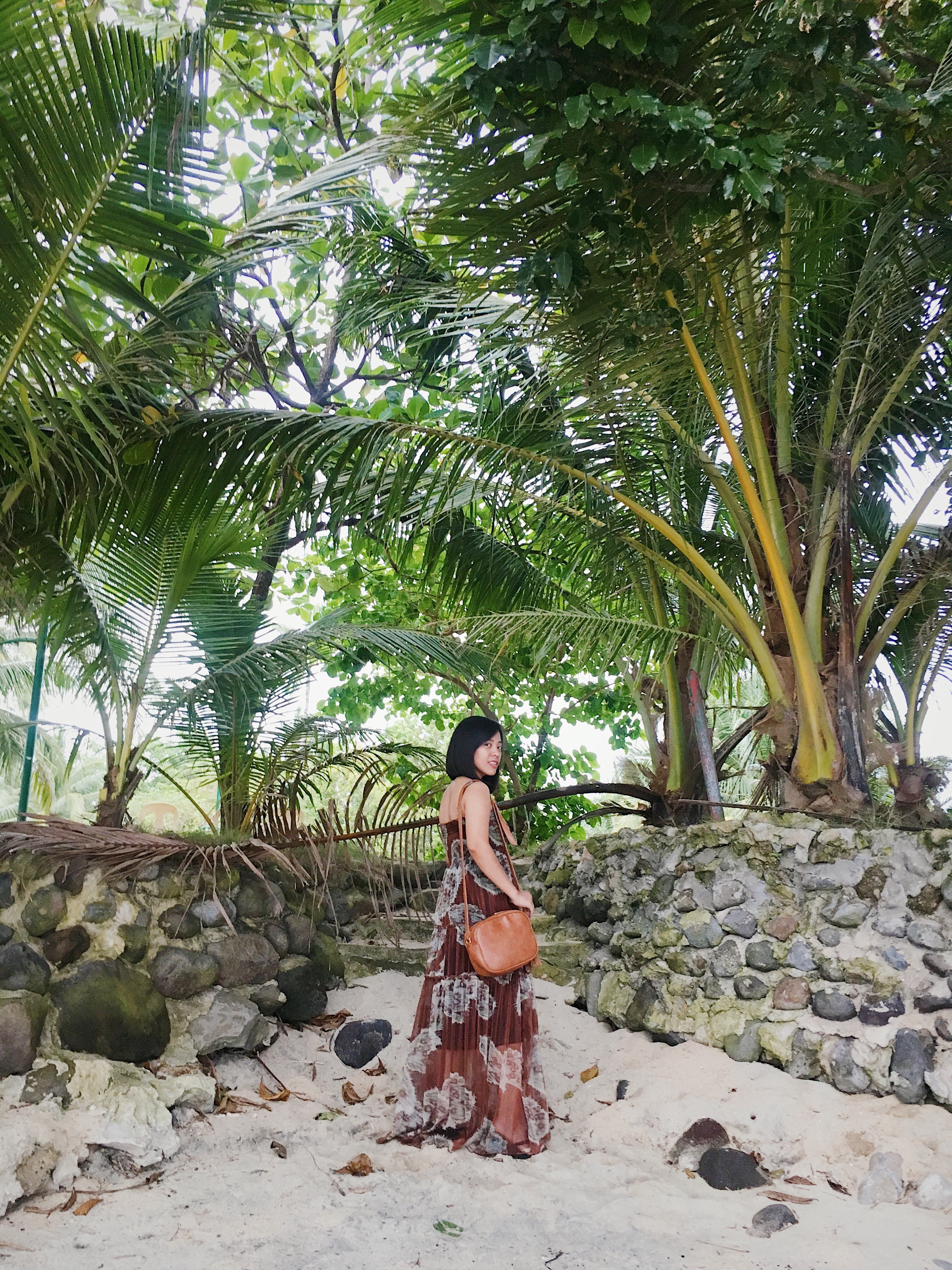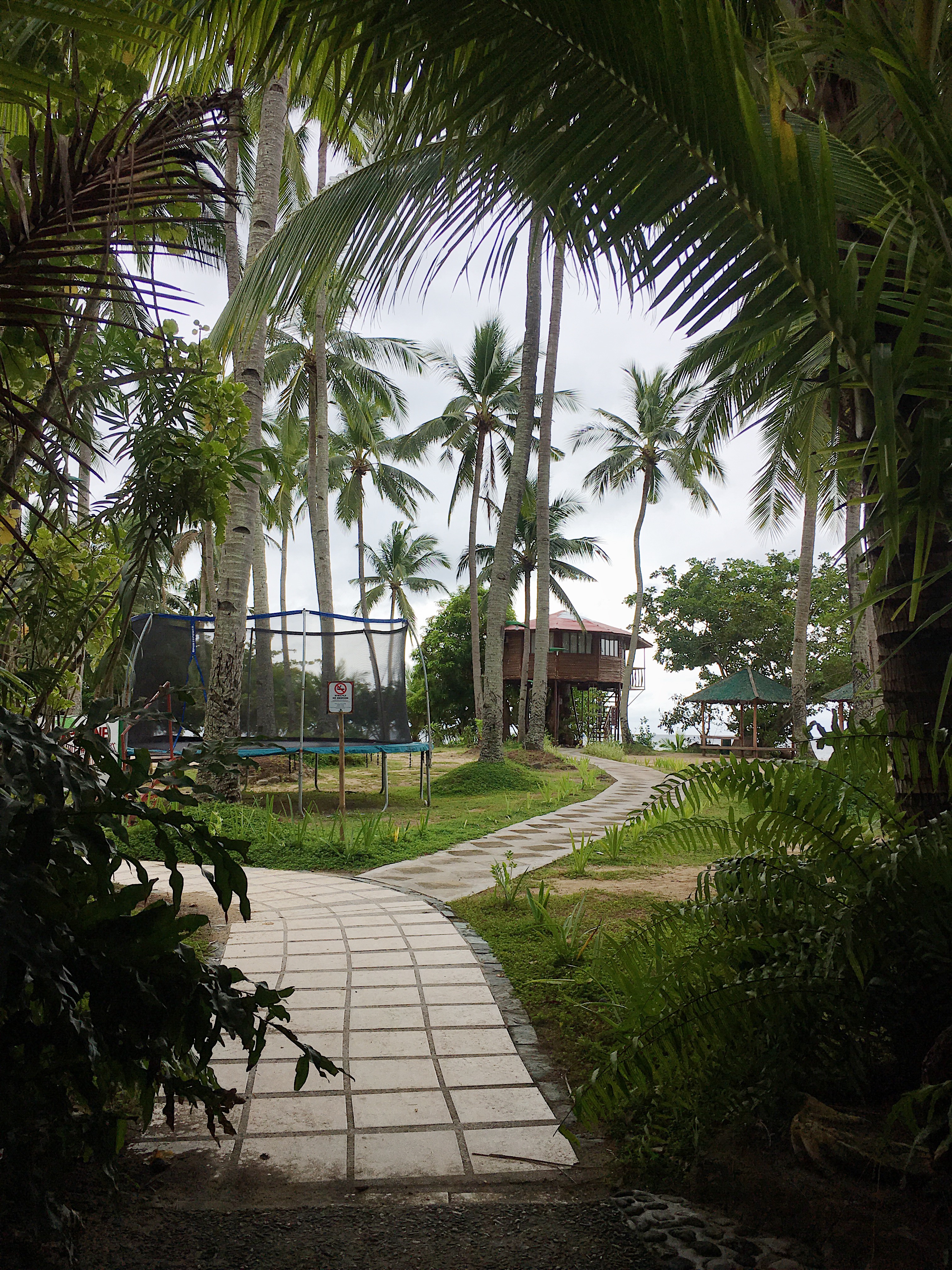 Second: The White Beach Extension
The resort provides a free shuttle to and from the extension until 6pm. It is a 2-minute drive from the main resort. It has a bigger beachfront area and it has around 10 cabanas where you can stay. They also provide a net for beach volleyball.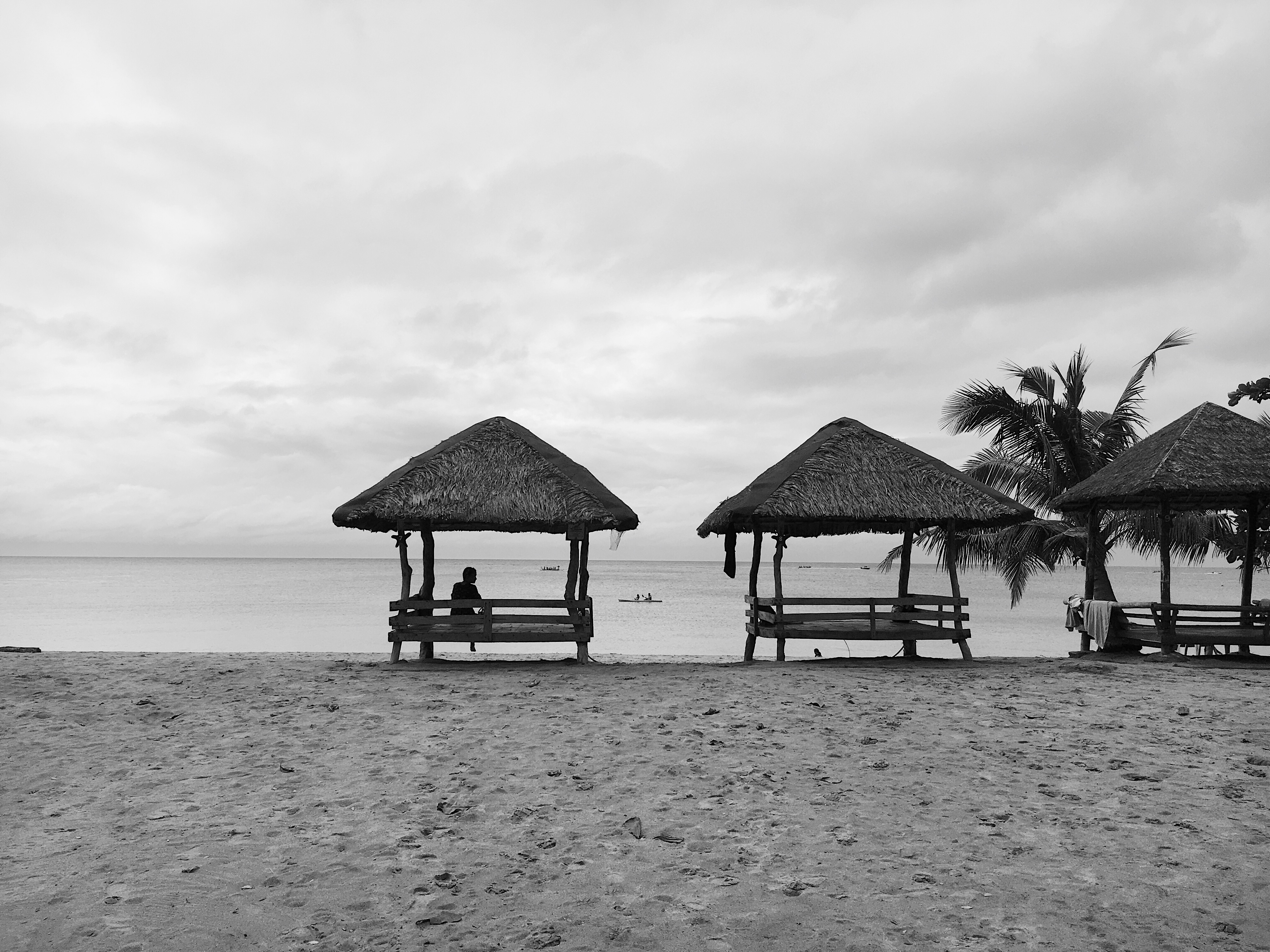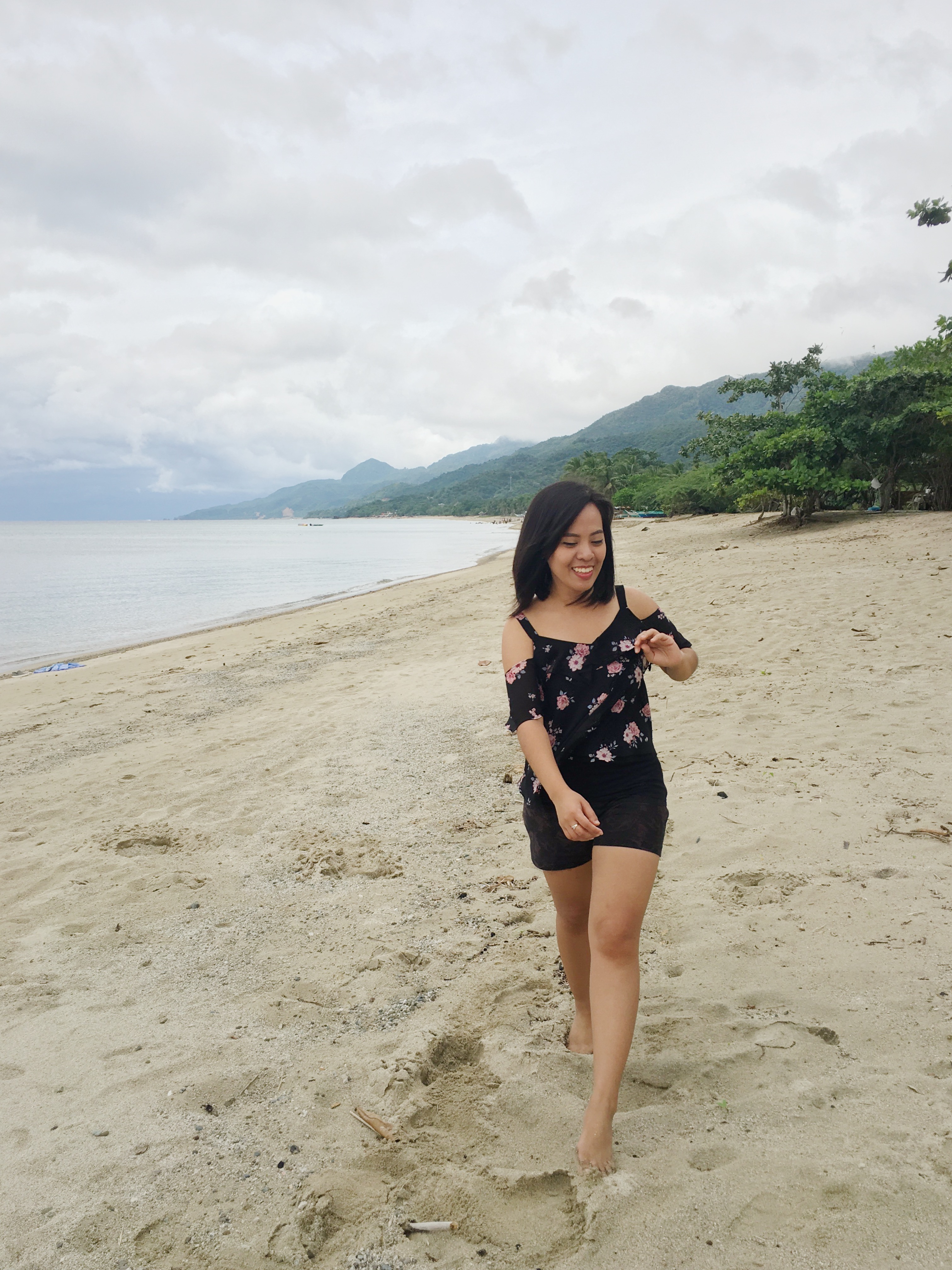 This is the part of the resort where you can rent jetskis and banana boats to go around the area. They have other water activities such as parasailing and snorkling. But, I don't really recommend snorkling in Laiya since you may not see much as compared to snorkling in Palawan and other provinces.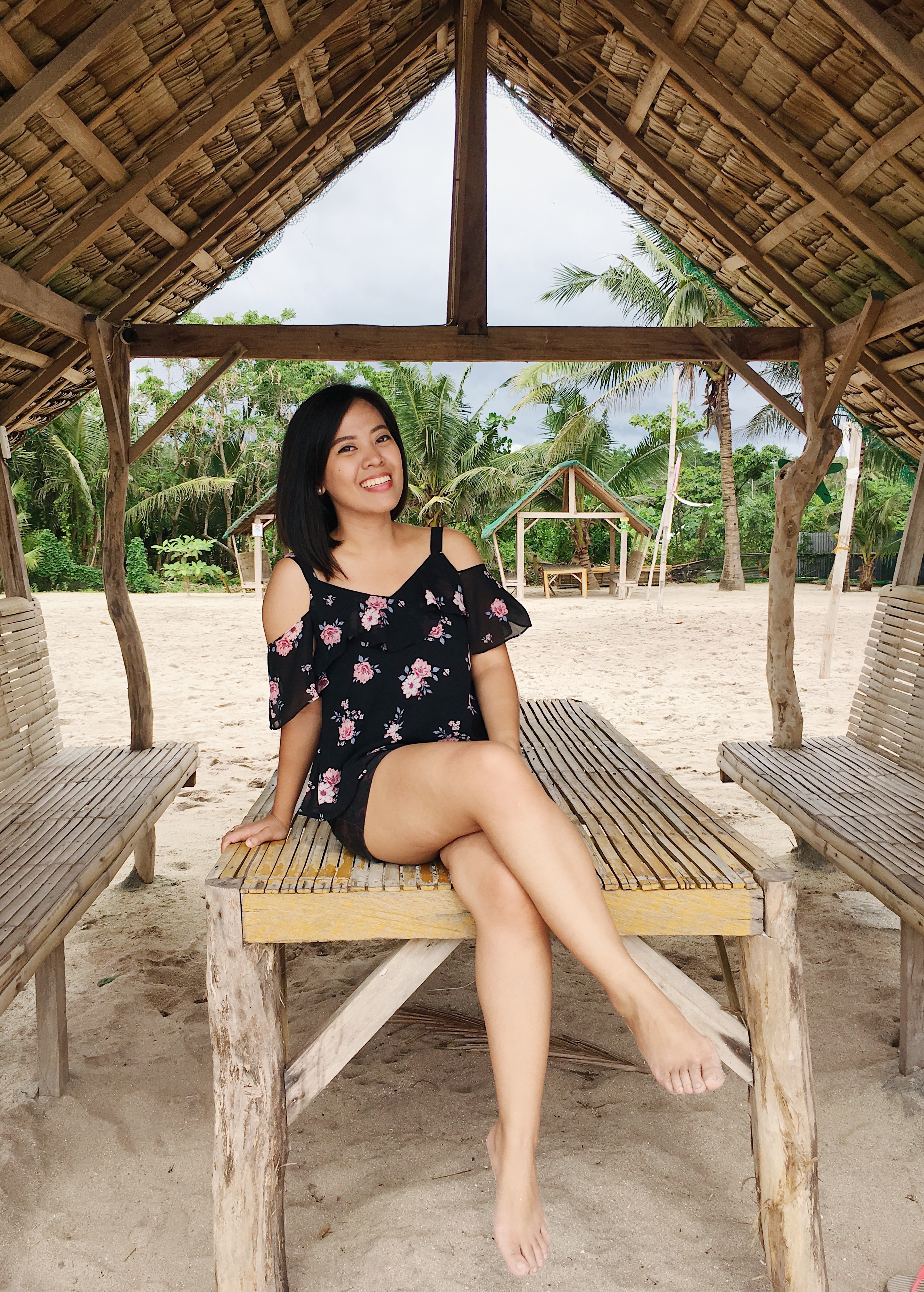 7. The sand is finer compared to other resorts in Laiya
I've tried the Acuatico resort in Laiya before. The grains of sand in Acuatico are bigger and rougher compared to the sand in Laiya Coco Grove. You'll enjoy walking along the shore and digging your feet in the sand in Coco Grove than in Acuatico (and the other resorts beside it). Of course, Acuatico has other better features but that's a different story. Do note that the sand area in Coco Grove did have trash, unfortunately. From wrappers of candies and empty packs of sinigang mix to lost slippers and body bags washed on the shore.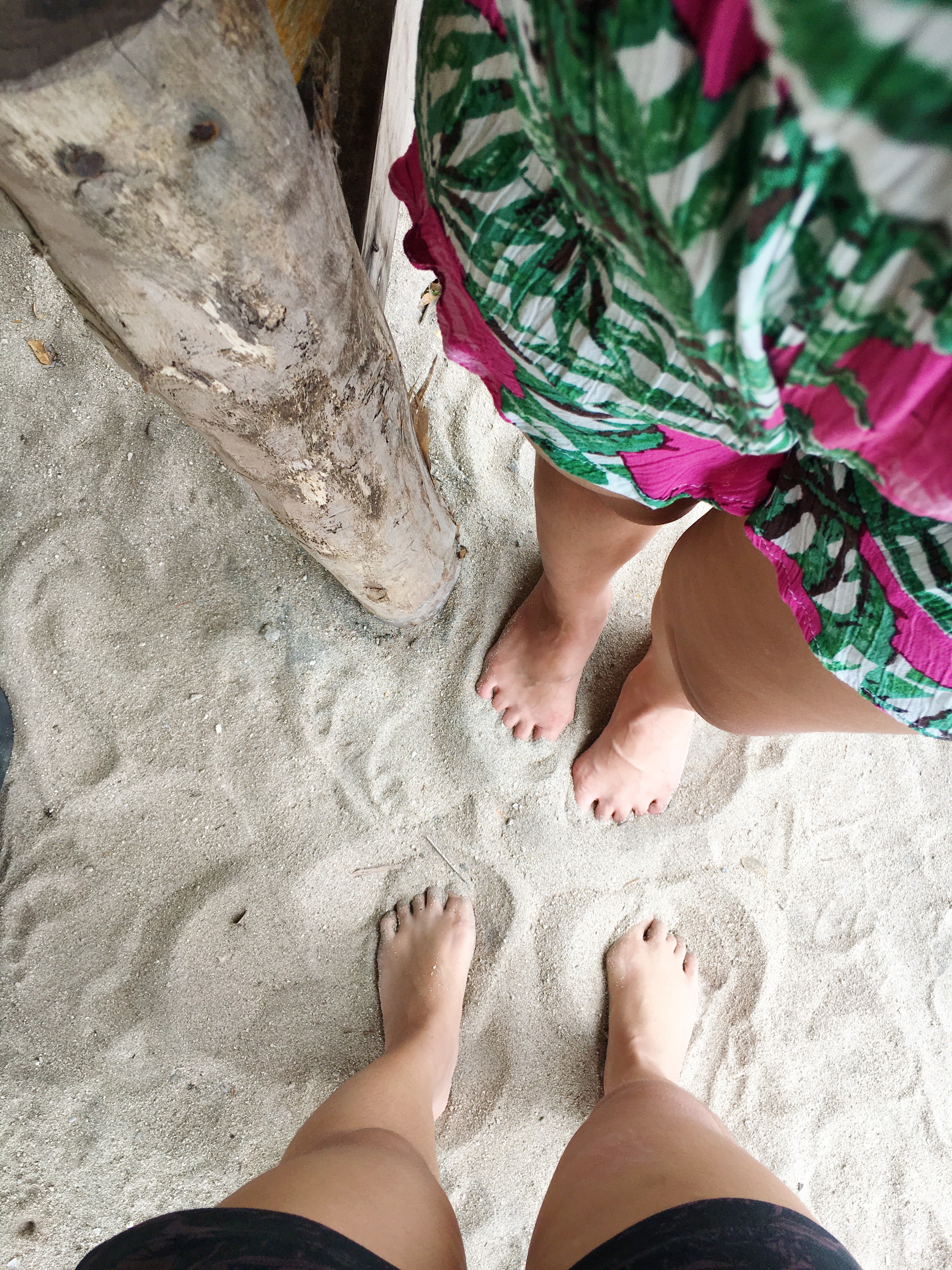 8. The views inside Laiya Coco Grove are very photogenic
I'll let the photos below support my statement. Hahaha! Despite the gloomy weather during our stay, I did enjoy taking photos around the place. I love how it's filled with coconut trees and treehouses. It certainly was a peaceful and relaxing getaway! If you'll go there during the summer, the resort will probably have more guests. During our stay, only four groups were staying at the resort, so it felt very private.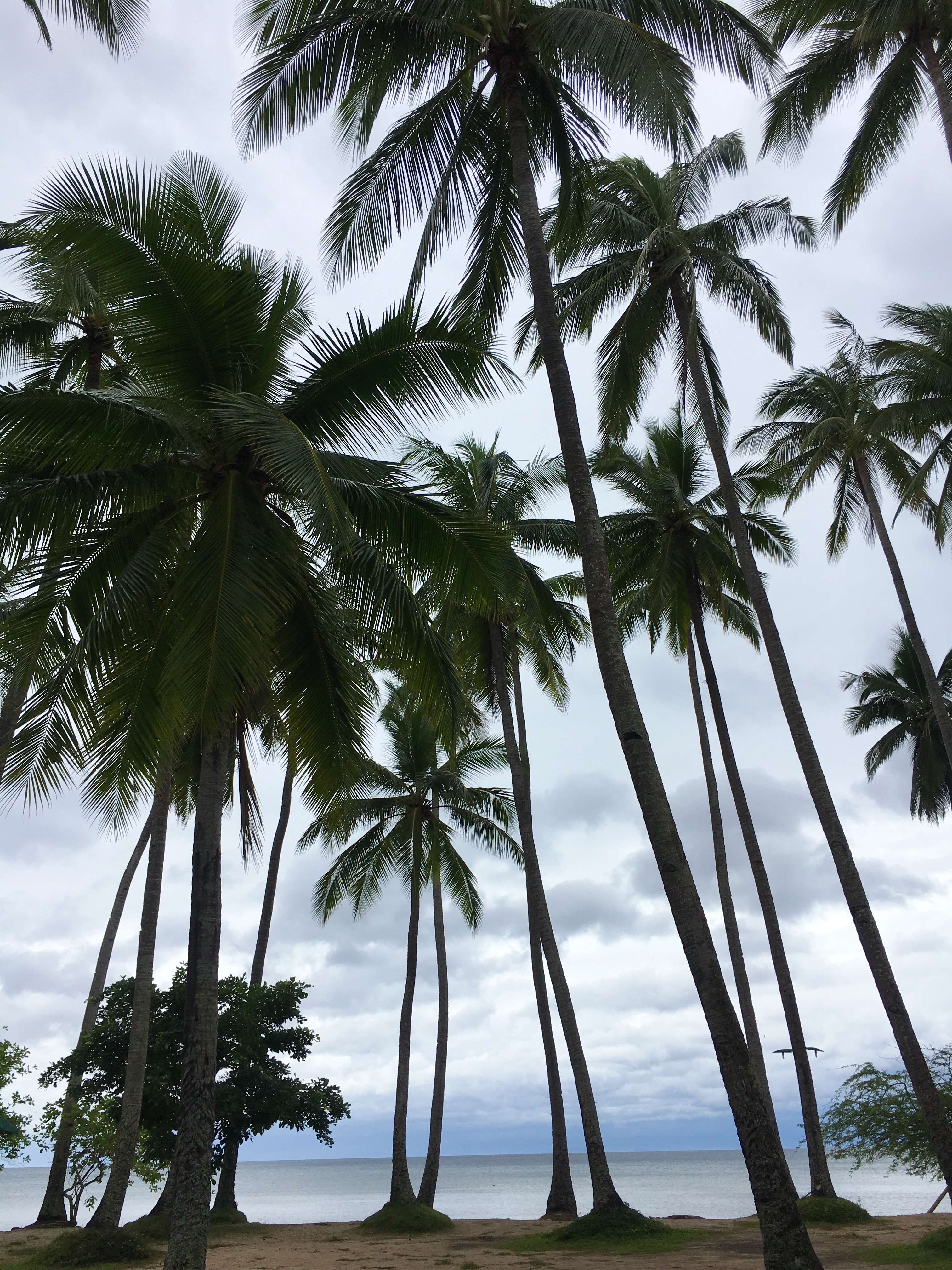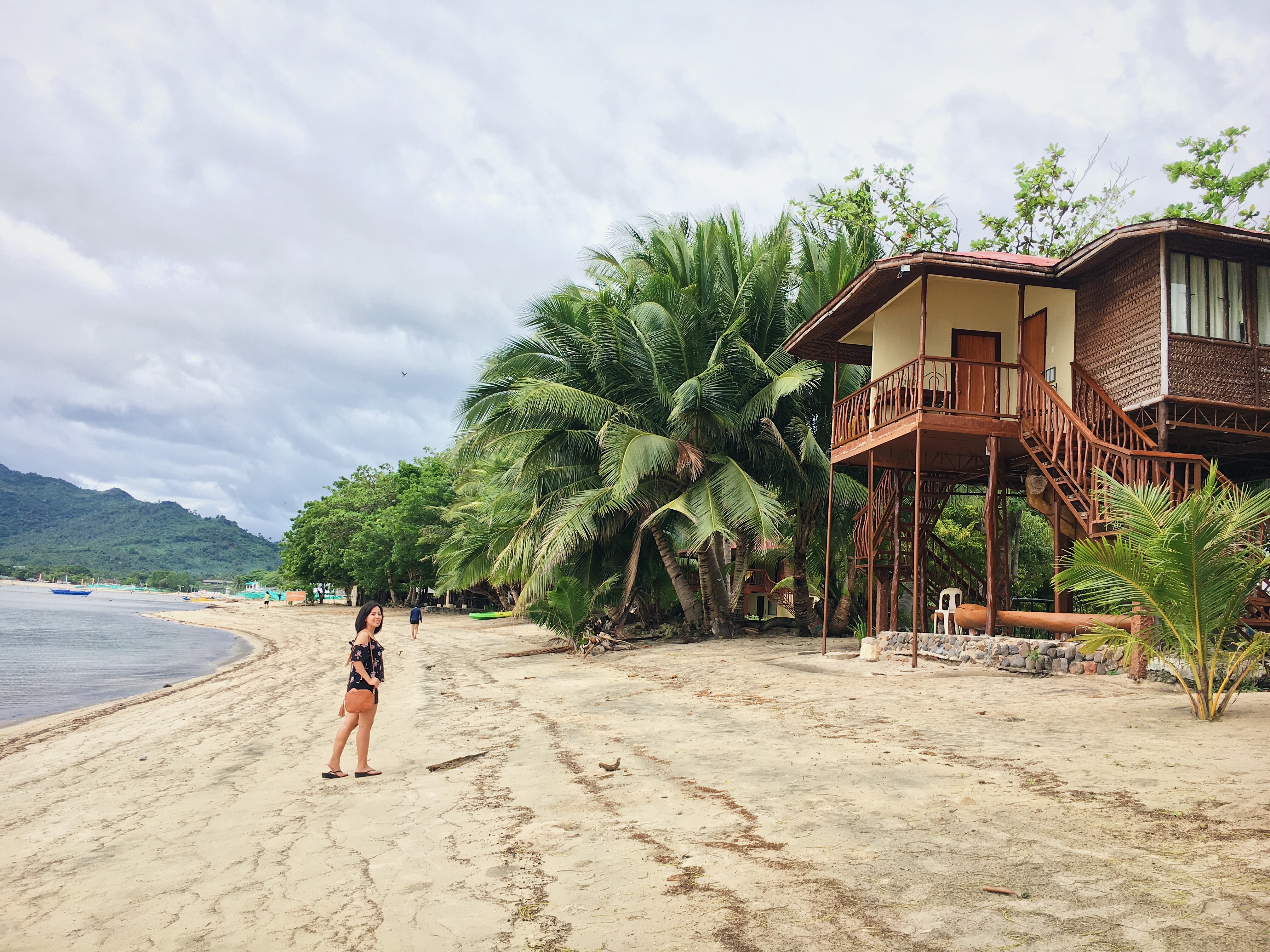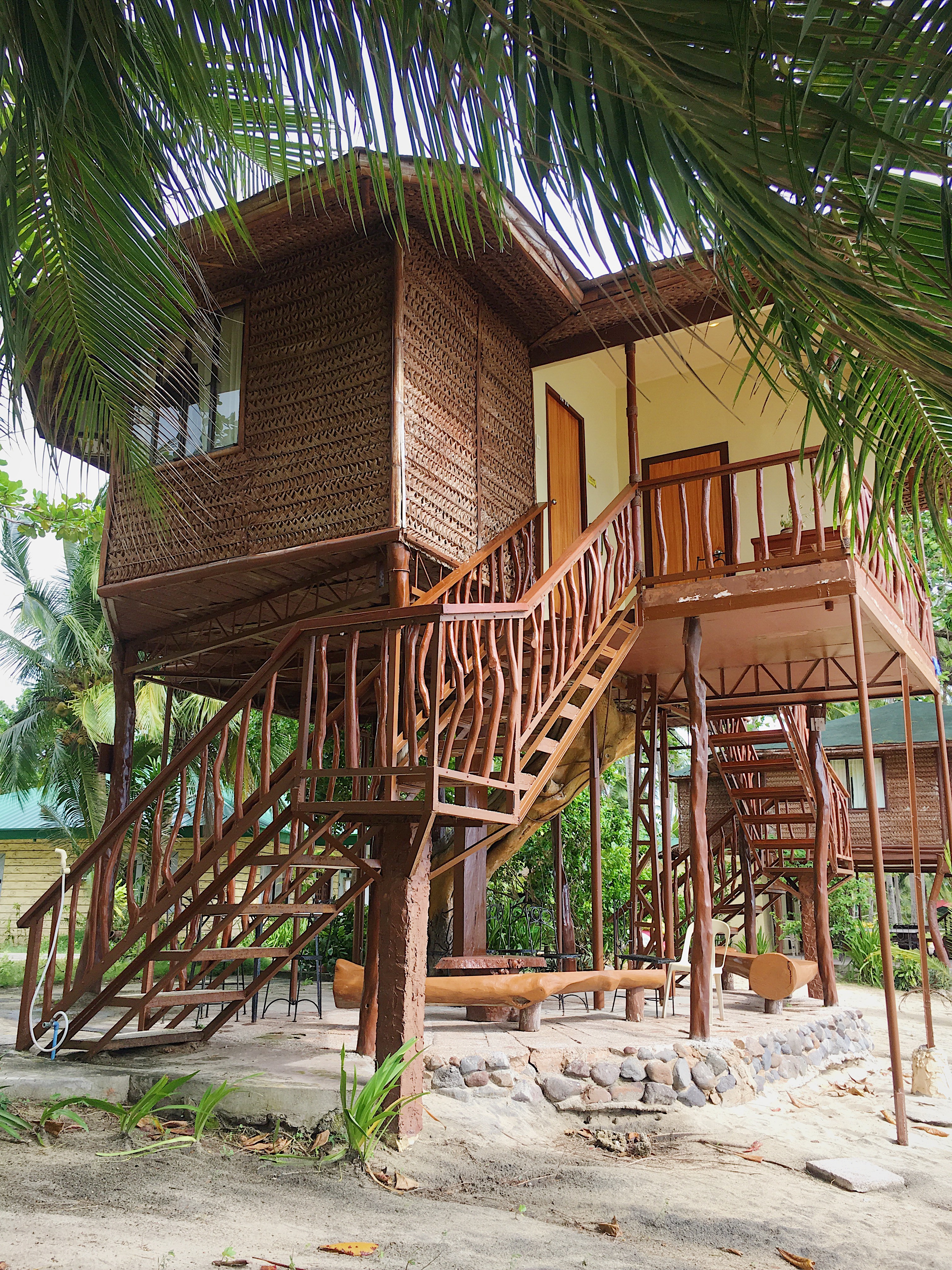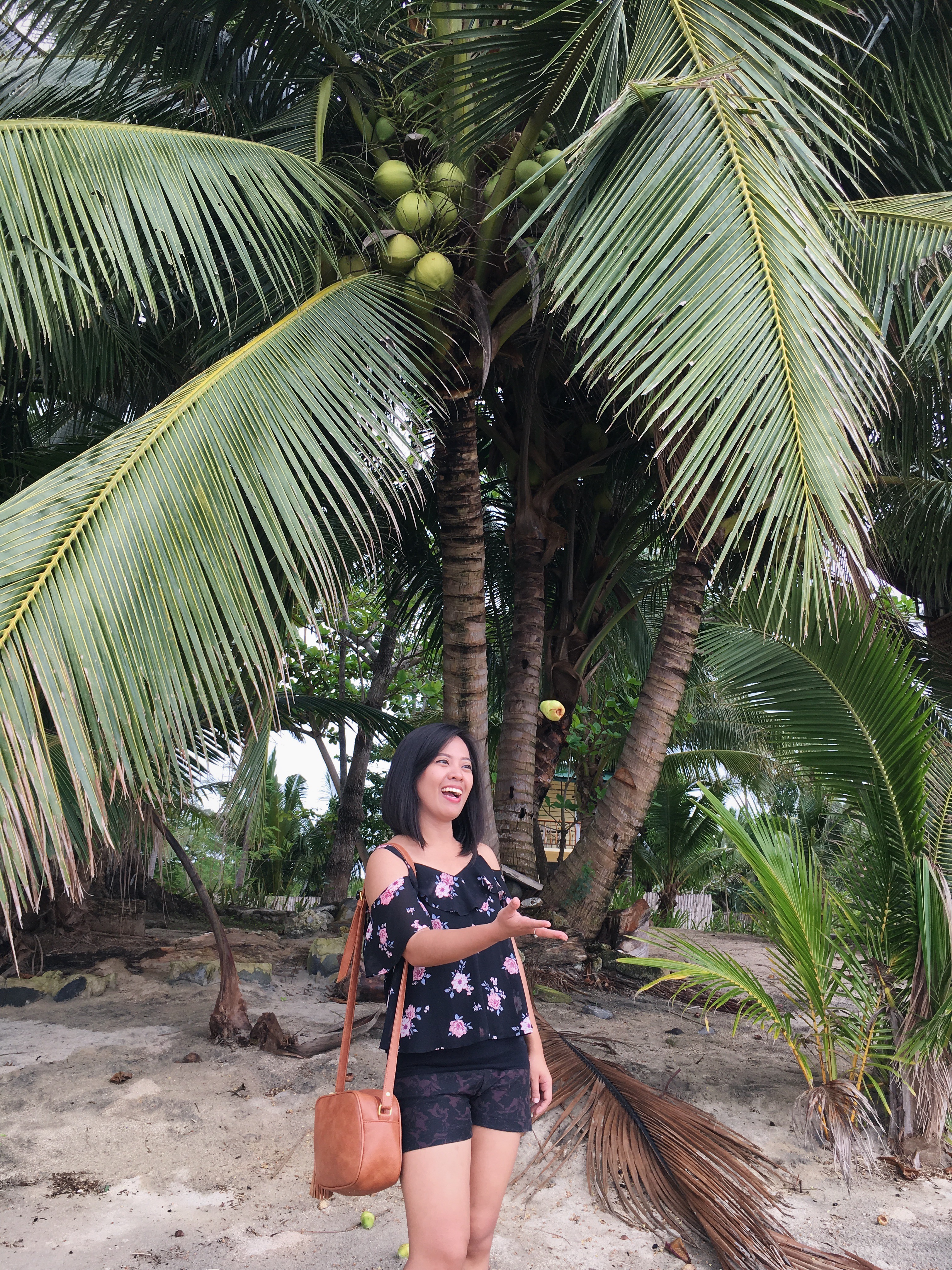 To the management of Laiya Coco Grove, if ever you're reading this, I enjoyed my stay. But, hopefully, you can improve in providing useful Wi-Fi connection, better meals, cleaner shore, and availability of fresh buko juice. Haha! I really wanted to have buko juice at the beach.