Well, I guess it is not a secret anymore. Haha. At first, I did not want to share this place with you because it would mean that I would disclose one of my treasured secret getaway spots with the Lord. But, I decided to still let you know about this because I do want to encourage you to intentionally set aside time just for you and Jesus.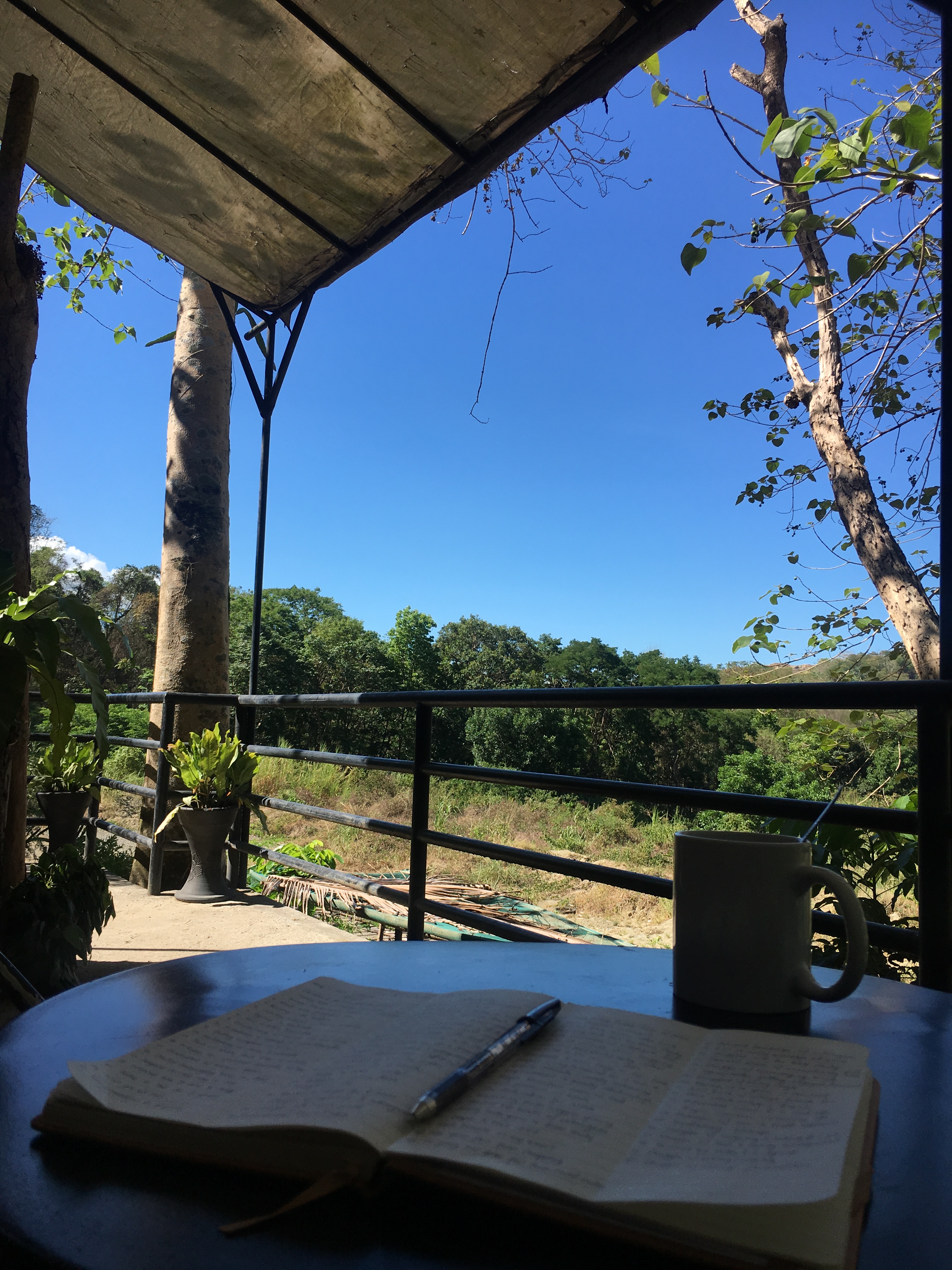 I have been to the Touch of Glory Prayer Mountain (Antipolo) for five times already: twice with my discipleship group from church and thrice by myself. I know that there are other prayer mountains and retreat areas to choose from. However, I personally enjoy this one because it is just an hour away from home and it has a good balance of nature and civilization. I enjoyed having accountability at the mountain with my group from church two years ago. But, nothing beats being alone with the Lord in the mountain for an extended period of time.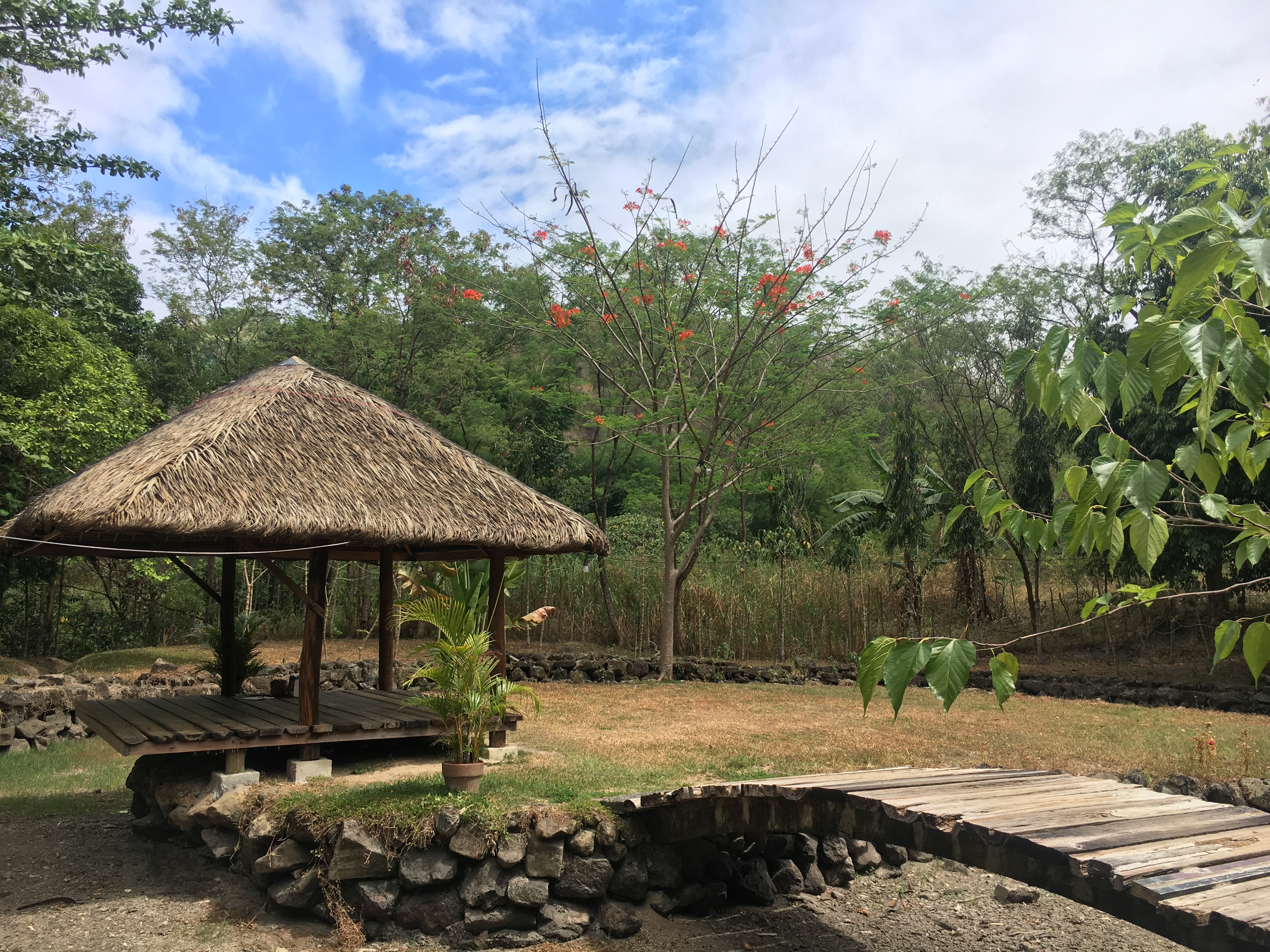 My introverted self cannot express how much of a joy this is too. This year, He allowed me to clearly hear from Him as I opened up my heart and placed my fears and concerns at His feet. He has been faithful in reminding me of His truths and promises for me and in revealing to me the things in my heart and life that I need to let go of and surrender to Him.
I usually stay overnight at the place because a day trip would not be enough for me. However, when I do get the chance, I spend three days and two nights in the place too. We have the option of staying in the dormitory (separate dormitories for men and women) which is around Php 350/night or to rent a private room which costs around Php 800-Php 3,500/night, depending on the type of room and number of people.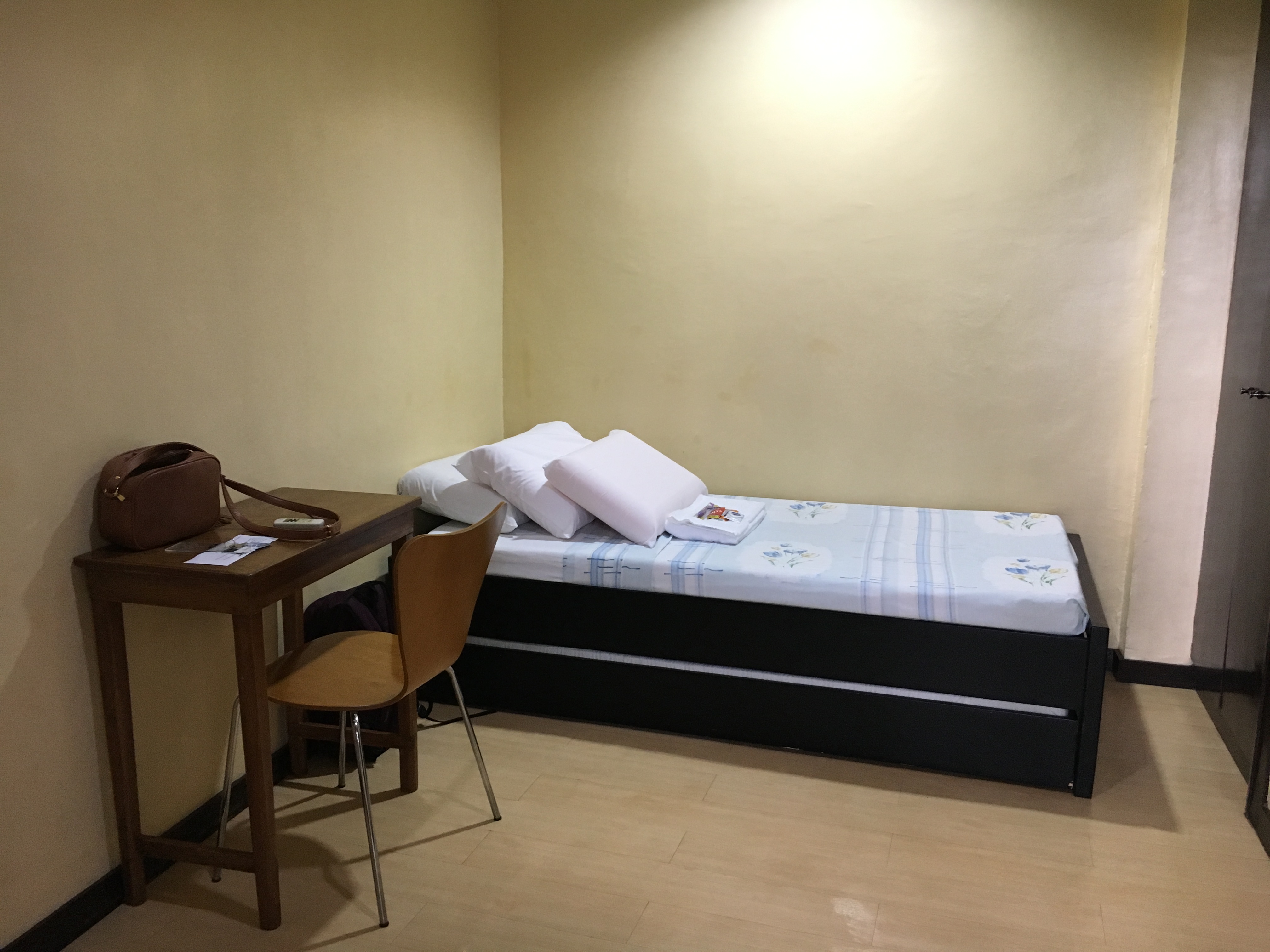 Because I like to have my own space, I usually avail a private room worth Php 900. It has a bed (good for 1-2 people), a private bathroom (with a heated shower), a chair and table, an electric fan, and an air-conditioner. Some rooms have closets too. For the exact room rates, you may refer to the photo below. Also, for more details, you can check their FACEBOOK page. If you are bringing a car, you can also search it using Waze.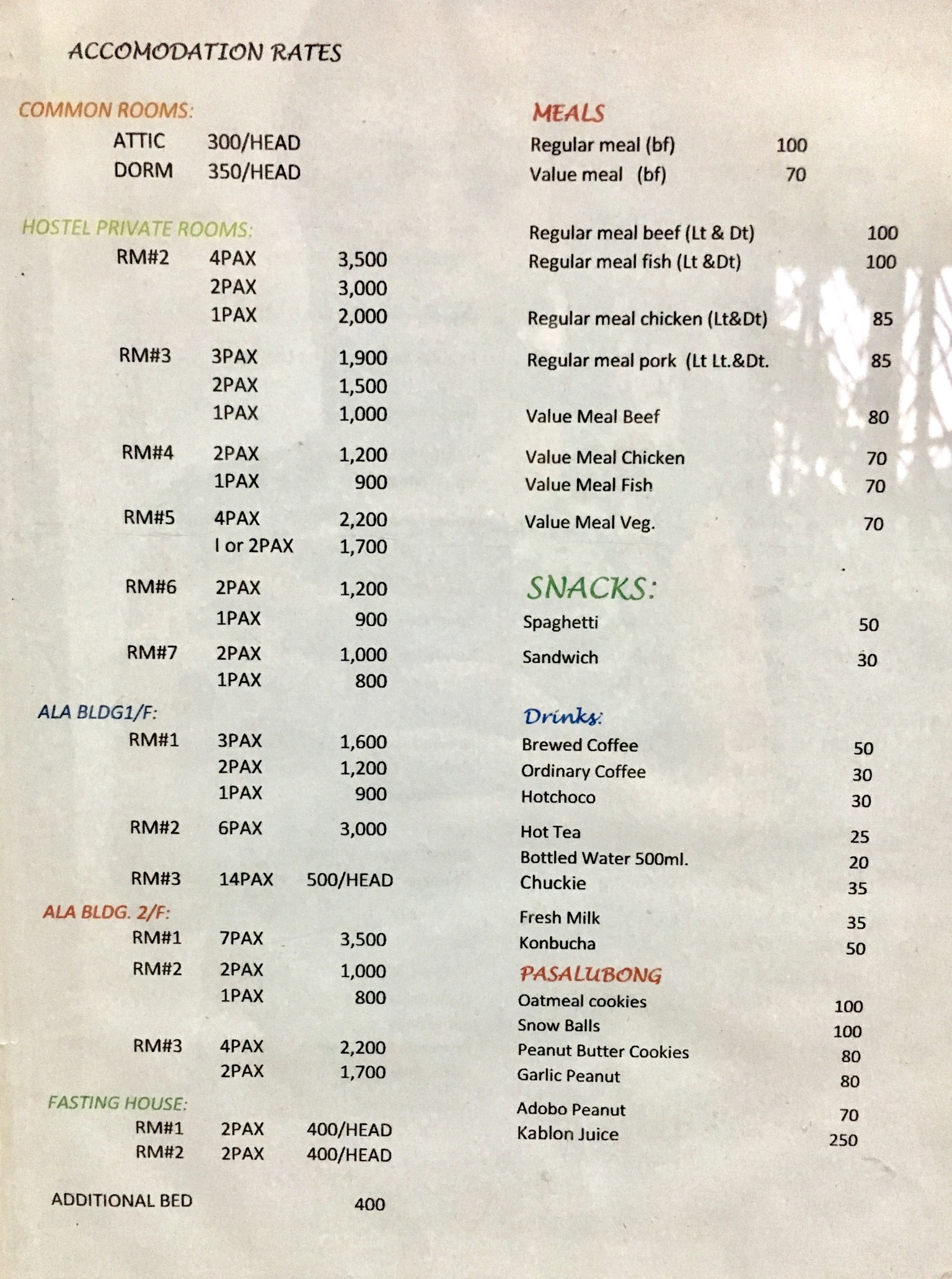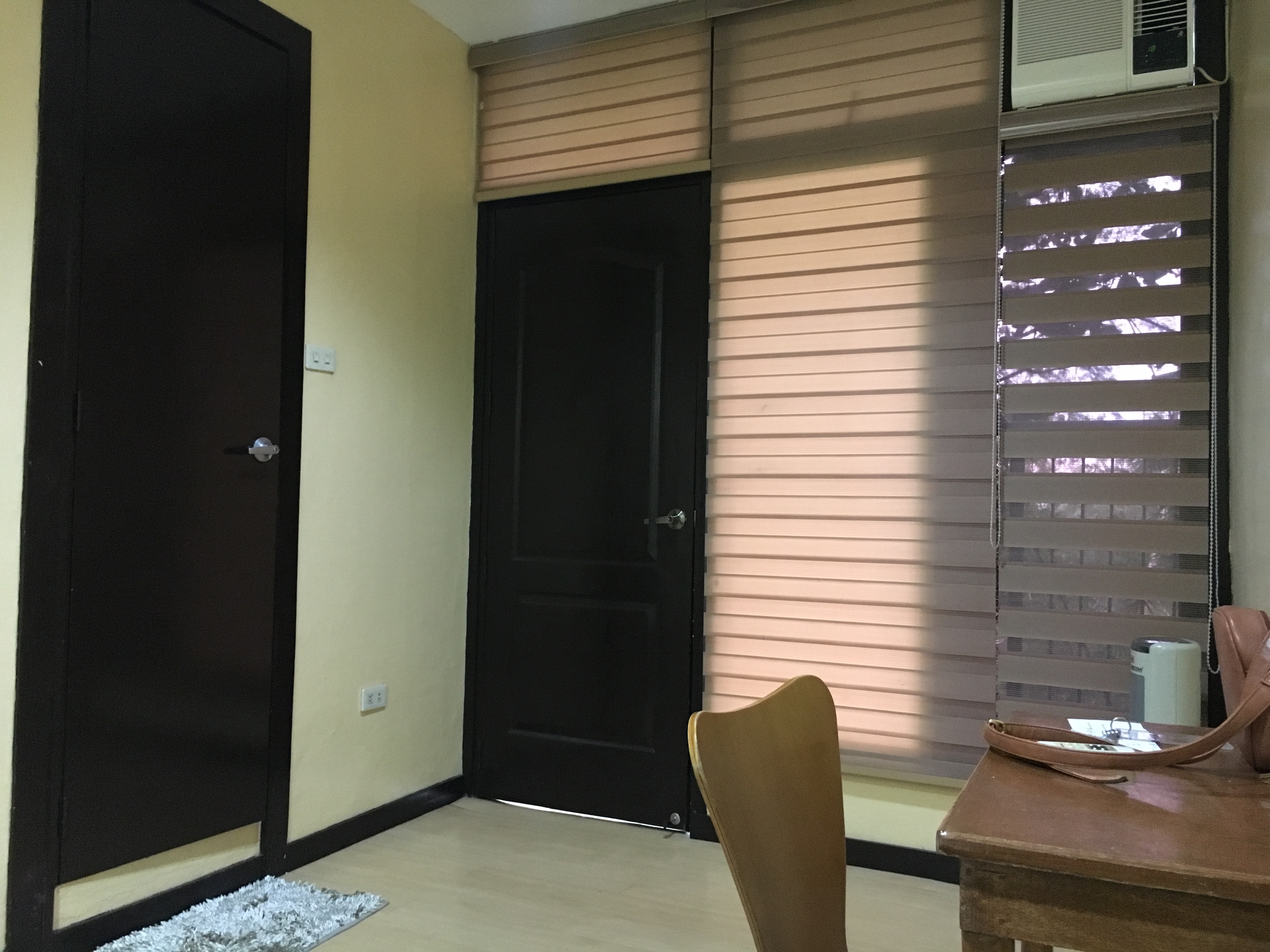 This prayer mountain is not the biggest I've been to but it provides enough areas for one to have quiet times. The place has a church/chapel inside the compound, a cafeteria (which serves regular-tasting meals/snacks and canned/bottled drinks), a veranda below the cafeteria overlooking the mountains and trees, prayer huts, prayer cells, a big garden area with three bigger huts and a small court, plantations of homegrown vegetables, a souvenir shop, a pond area with a few wooden chairs, spacious open areas where people can meet under trees, and a parking lot just outside the compound which can accommodate around 10 vehicles.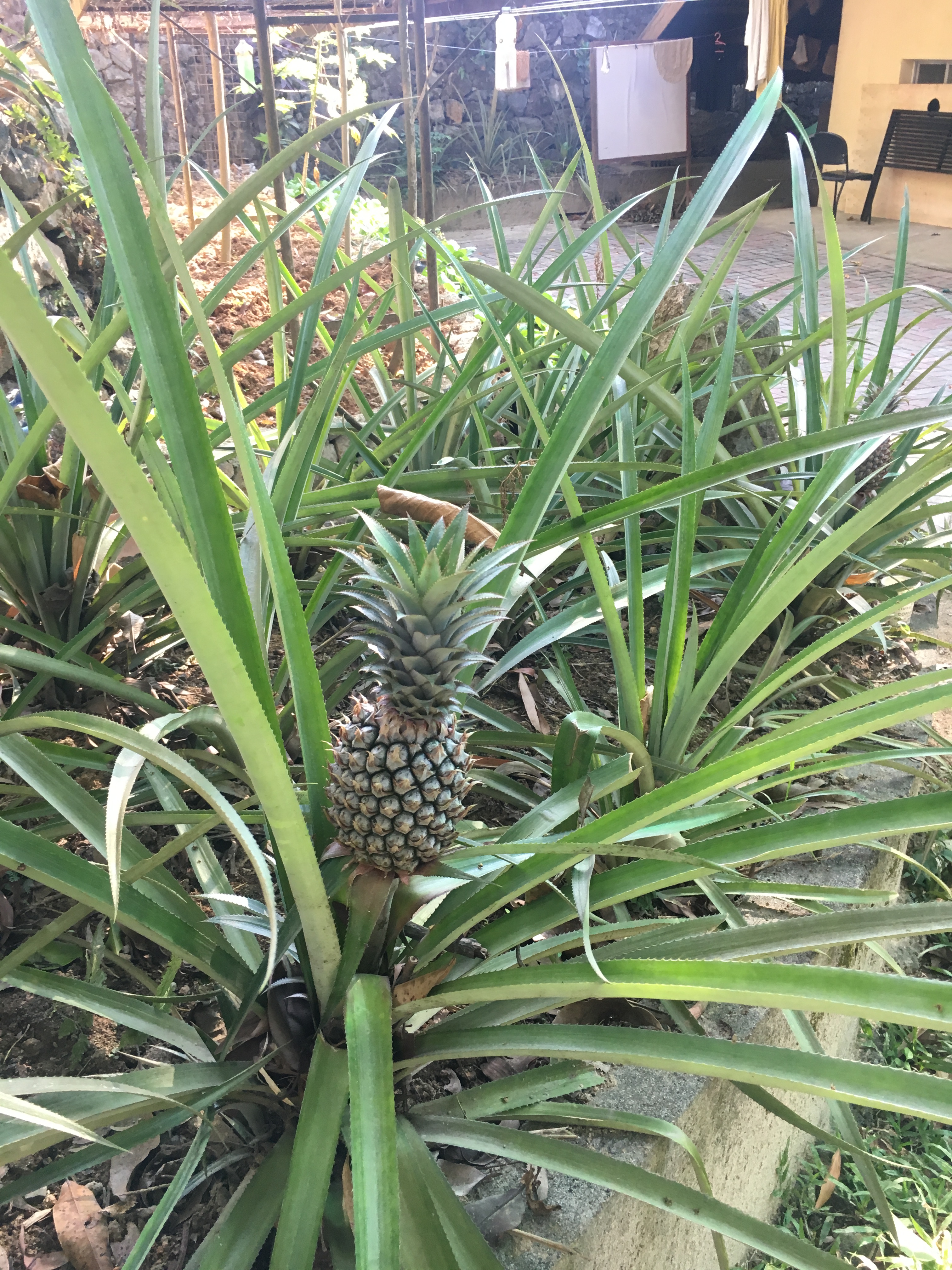 Check-in is at 2 pm, while check-out is at 12 nn. However, if you arrive by 1 pm, sometimes, the room is already available for check-in. You can communicate with them in advance. They also entertain late check-outs whenever they do not have events. I usually go there on Saturday and leave on Sunday. But, if you have time to visit on weekdays, I would suggest this instead because they usually have more people coming in on Sundays, which might hinder you from experiencing more quiet and peaceful moments.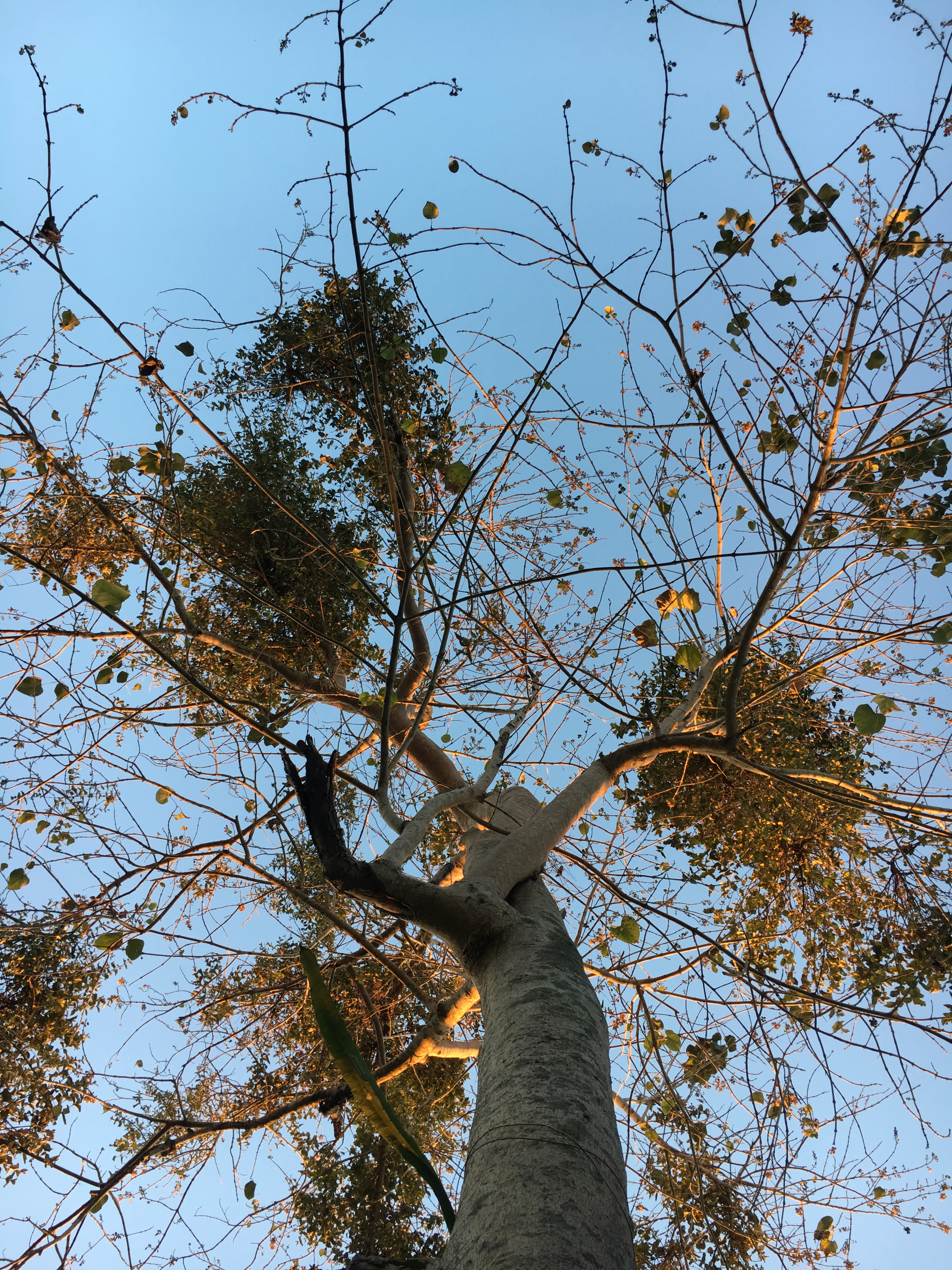 Also, I bring snacks, fruits, and a water tumbler with me whenever I go to the prayer mountain. I find this very useful especially in between hours when I feel sleepy or hungry. If ever you plan to do so, just make sure to throw the trash in the bins outside of the rooms because ants will find their way to your opened snacks, even if you try to seal them tightly. They do serve rice meals in the cafeteria, but they do not have a lot of options for snacks and fruits. You can also refill your water tumbler by using their water dispensers. If I'm not mistaken, refilling 500ml of cold or lukewarm water will cost around Php 5.00. A cup of hot water from the cafeteria will also cost Php 5.00.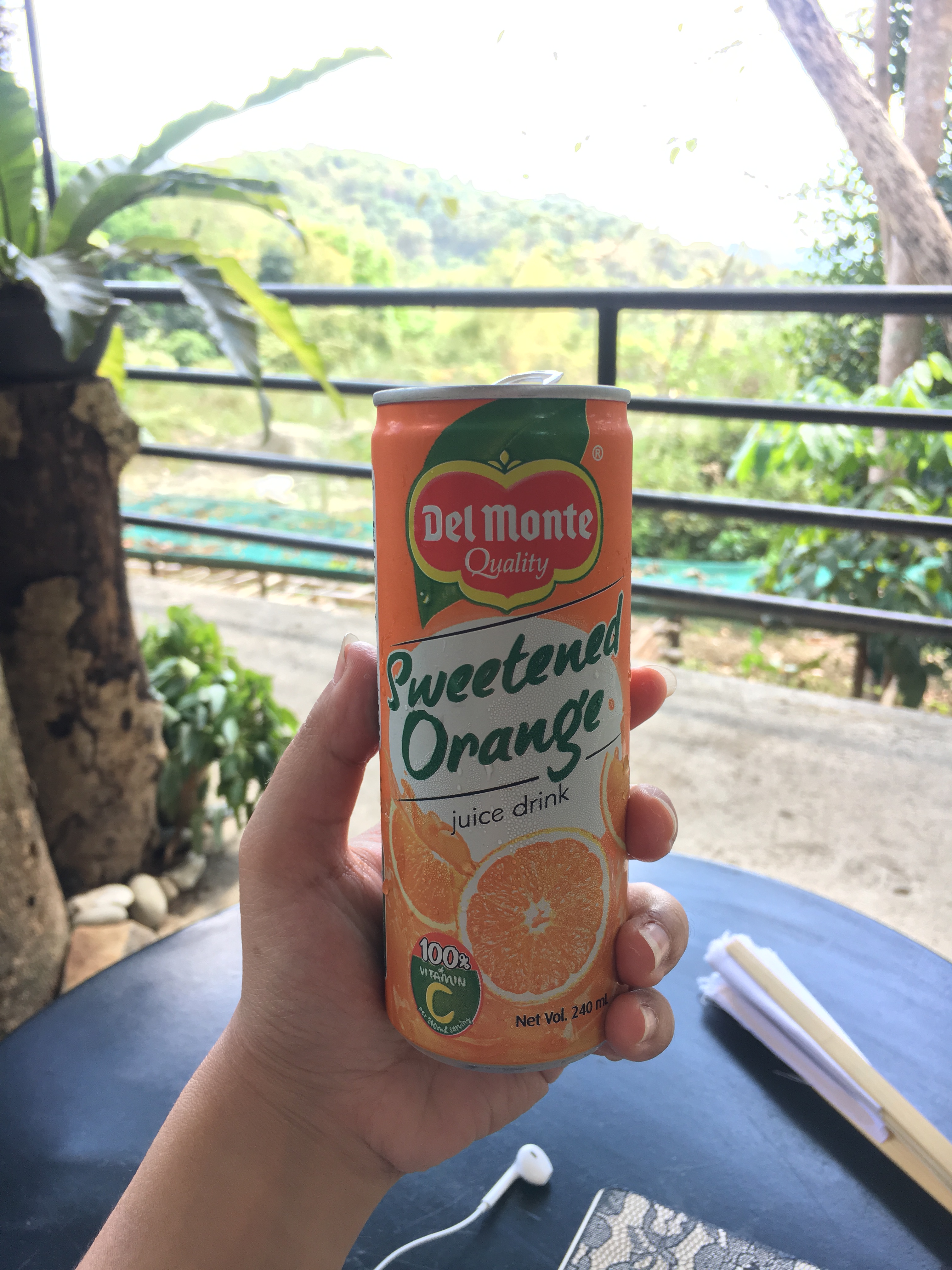 In addition, the place has a relatively good signal for Globe and Cellular data (3G). In the garden area, you can get LTE. But of course, as much as possible, while you are there, I suggest that you limit (if not, fast) yourself from using the internet since this will most likely be a distraction.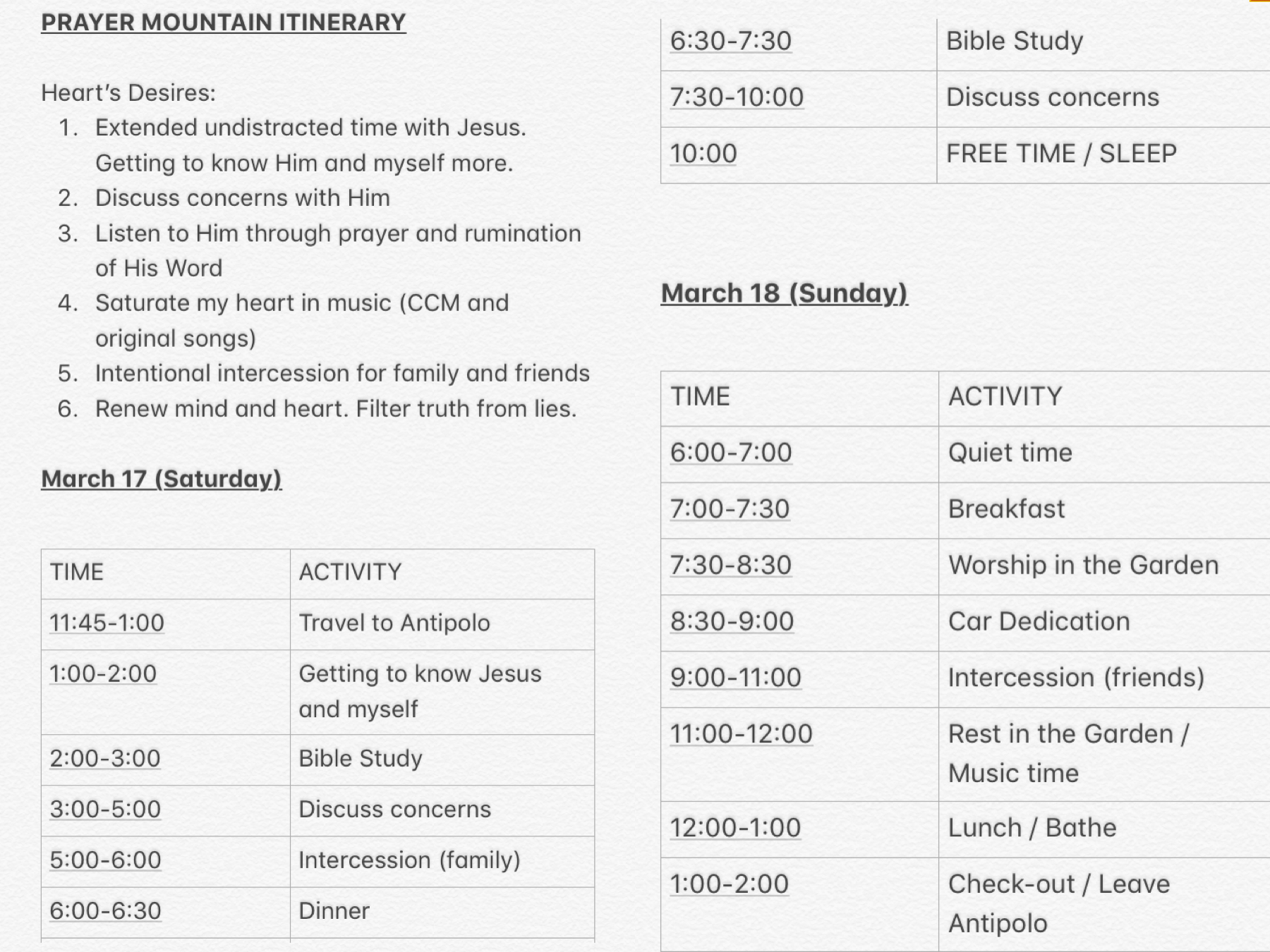 Personally, I found it helpful to create an itinerary for myself before going up the mountain. This helps me stay focused on my objectives and desires in having solitude time with the Lord. I cannot wait to go back again and spend time with Him on the mountain. There is just something unique about knowing Him more through nature and the most random things outside of your home or your usual quiet time spots.
Here are some of the moments I've had with God on the mountain:
PAINTED SKIES
"You're His child and that will always be enough." As I was watching the sunset change the colors of the sky, this line was playing on my phone. It is from 4Him's song "Measure of a Man". The sunset had soft pink, purple, orange, and blue tones (Unfortunately, my phone wasn't able to capture its beauty.). At that moment, I felt my Heavenly Father re-assure me that I am His child and that He is more than enough for me. It was as if He was literally painting colored skies in front of me.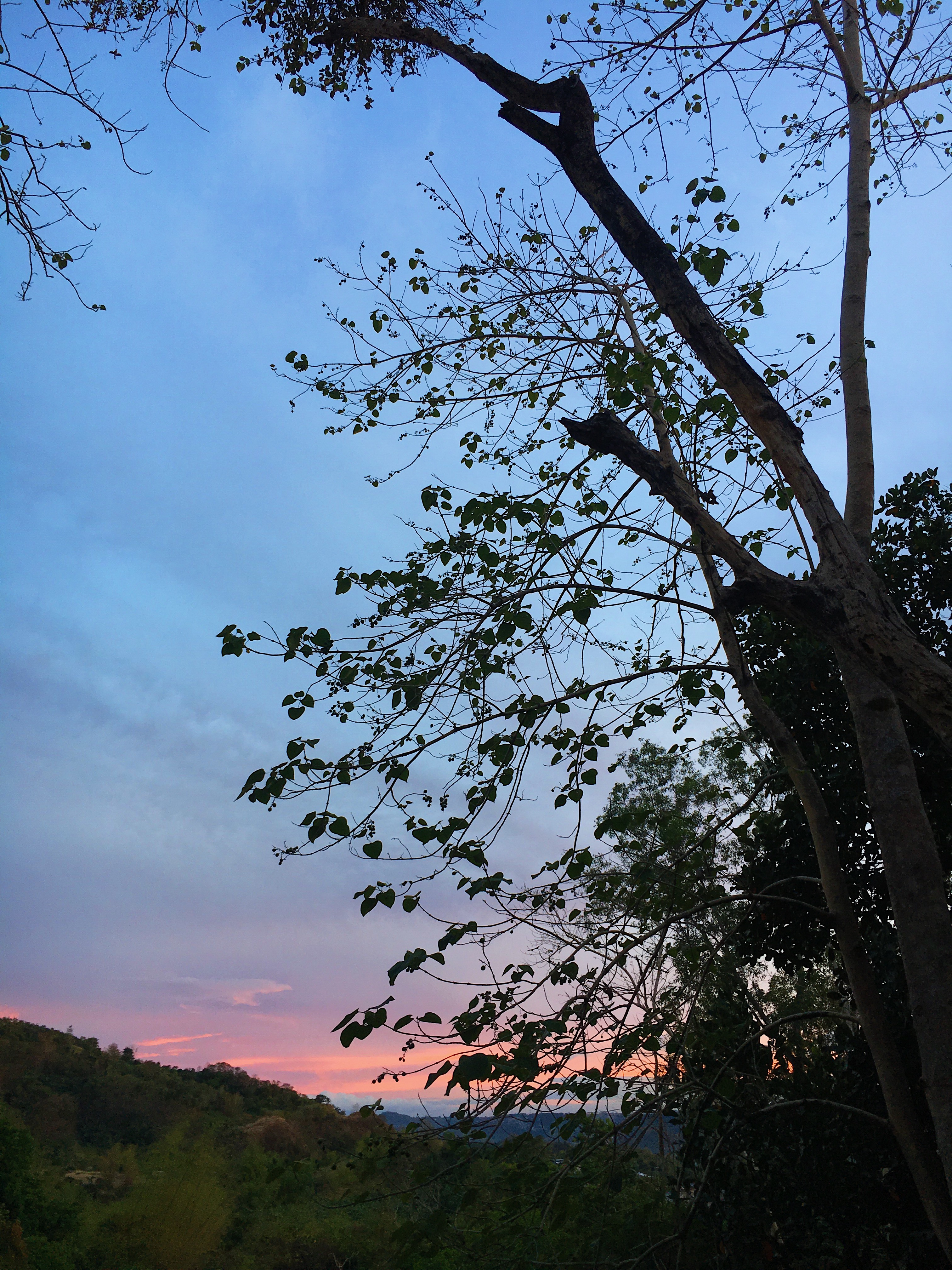 LITTLE BOY
A random kid was running up and down the stairs beside the veranda where I was staying at. After a few runs, he went near me and asked: "Are you praying? Are you reading?" I said: "Yes!" Then, he skipped away. A few minutes later, he returned and asked me again: "What are you doing?" Then, I replied: "I'm praying and reading." He said: "Are you reading the Bible?" Then, I said: "Yes". He replied: "Okay!" and ran off while calling his dad. I found the situation funny. But, I also appreciated how innocent and pure it was. It reminded and encouraged me to have a childlike faith (humble, eager, honest, and joyful) as I continue spending time with the Lord.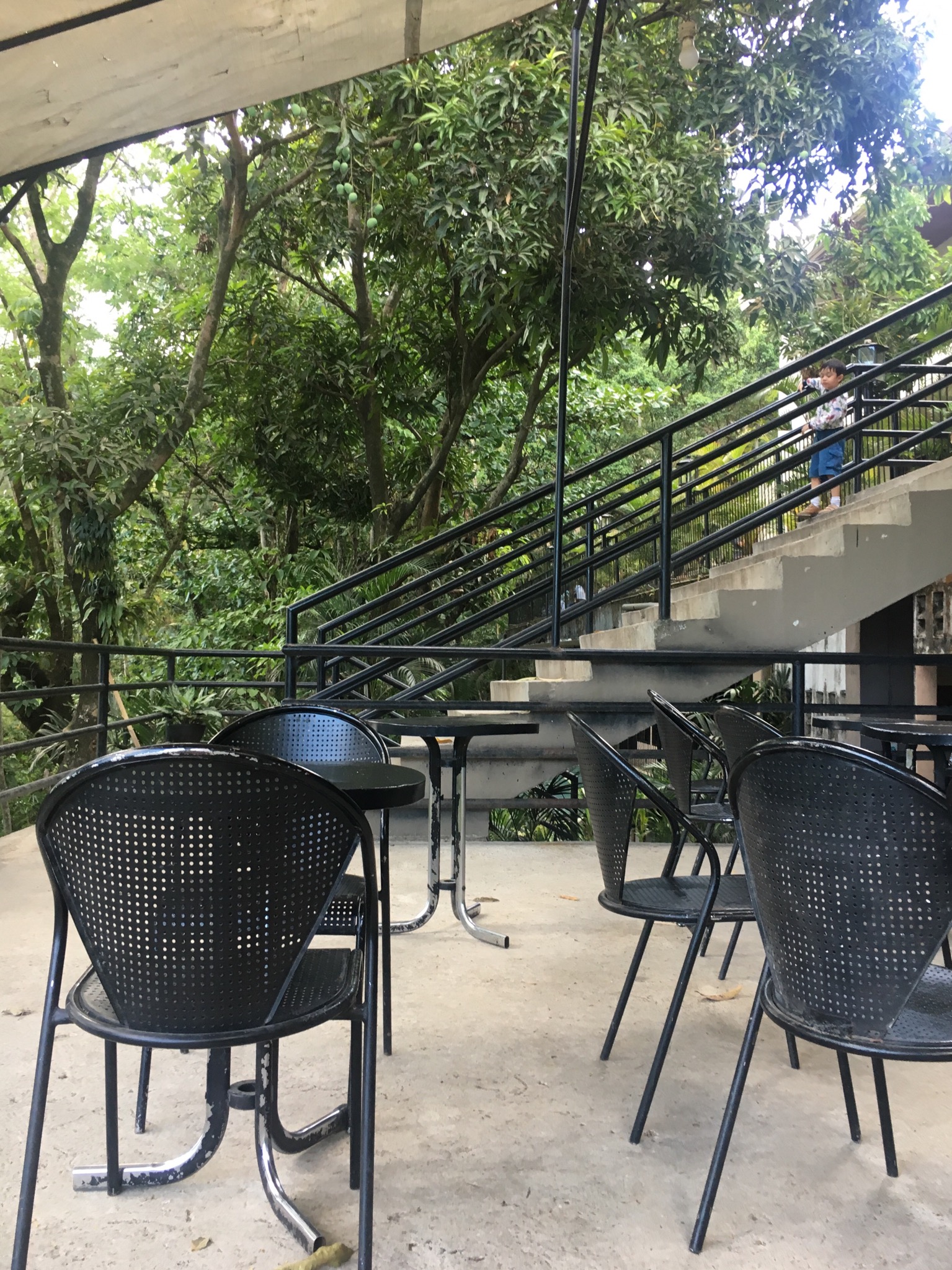 COOL BREEZE
I was pouring my heart out to God and confessing the filth in it while I was alone in the garden area. I knew that I was not honoring God in the way I responded to different types of people. Then, He revealed to me how Jesus was radical in responding to difficult people; in extending the love and grace of God to them. My heart broke as my eyes watered because I knew and felt that God was urging me to follow Jesus' example. Just when this was happening, I felt a long, cool breeze continuously blow towards me. It was a calming and heartbreaking moment for me. I remember saying this out loud: "Jesus is in my heart. Through Him, I can do all things!" (Philippians 4:13)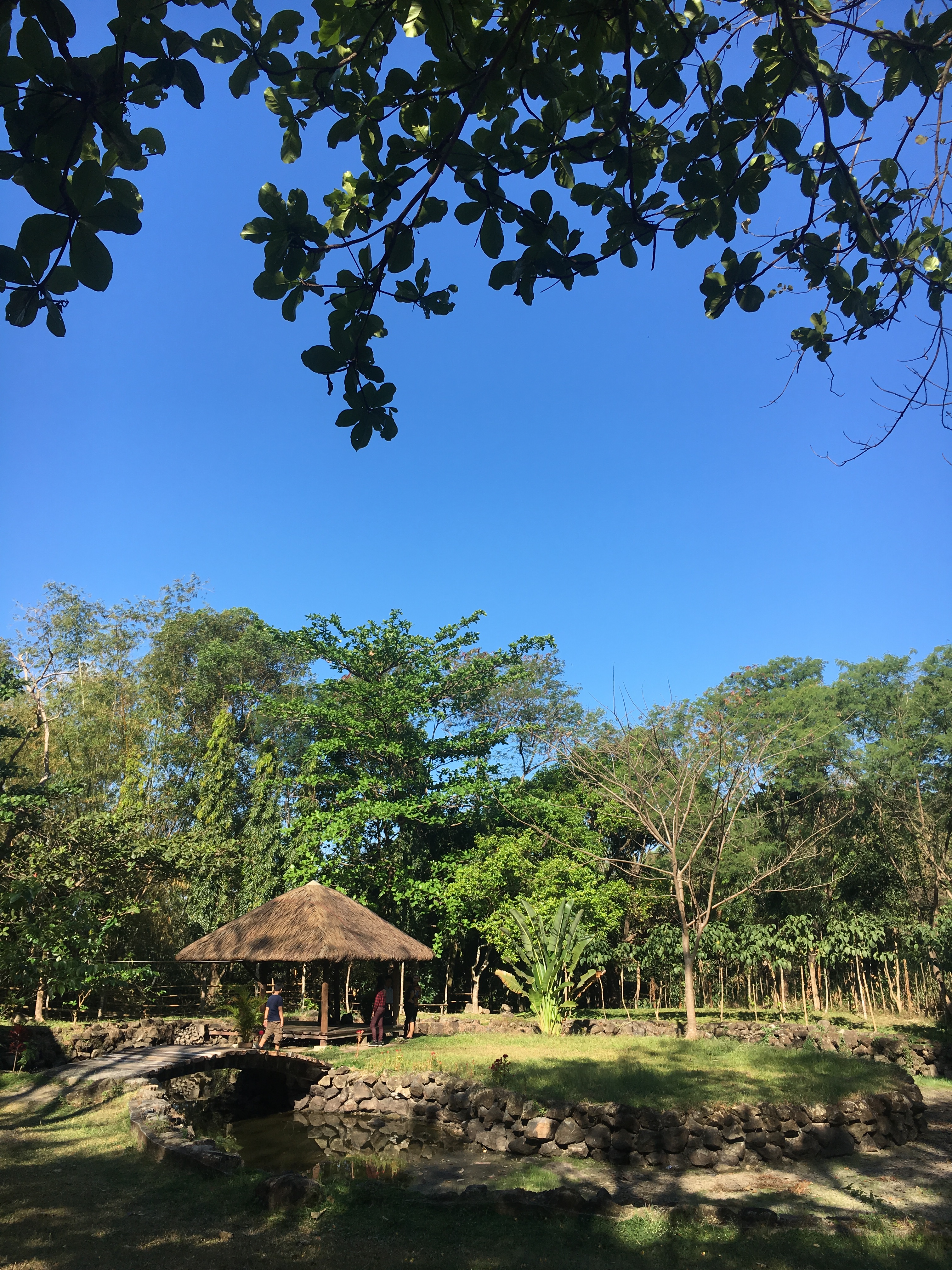 10:10
A plantation of leafy greens caught my attention because of the contrast between the two container beds. One was abundant with fruitful harvest. While the other one was a mess with leftover scraps. It immediately reminded me of John 10:10 and how Jesus wants me to have an abundant life with Him. "What is stopping me from experiencing this?"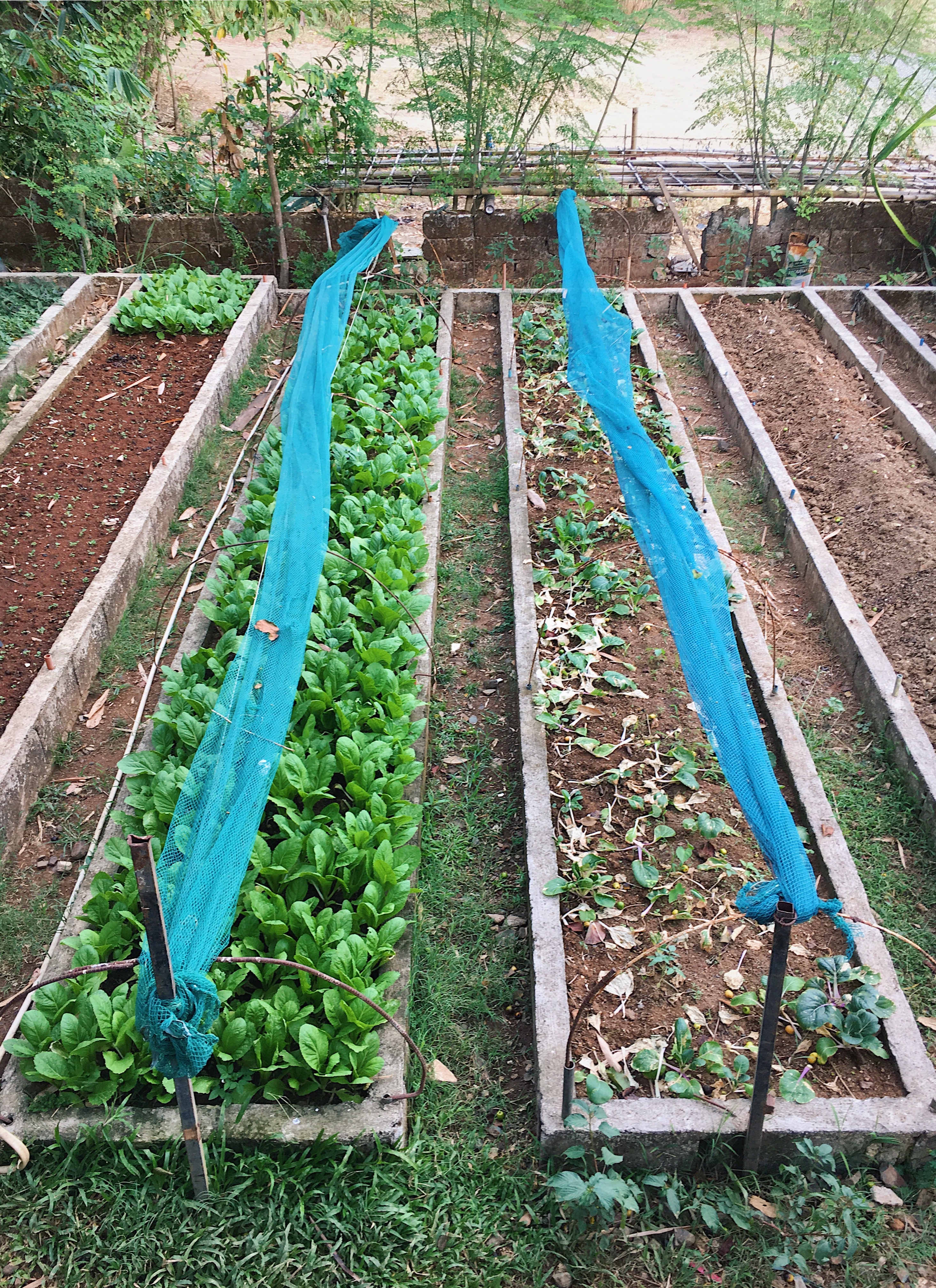 Whether or not you go up to this specific mountain, my secret getaway, it is my prayer that you and I will get to experience Jesus in a deeper and more personal way this year.
"Better is one day in your courts than a thousand elsewhere…" –Psalm 84:10
"You will seek me and find me when you seek me with all your heart." – Jeremiah 29:13
"Draw near to God  and He will draw near to you…" – James 4:8