Dear future self,
Just a piece of advice: Always remember that in order to make buttercream frosting, you'll need to use butter. Hahaha!
Sincerely,
Me.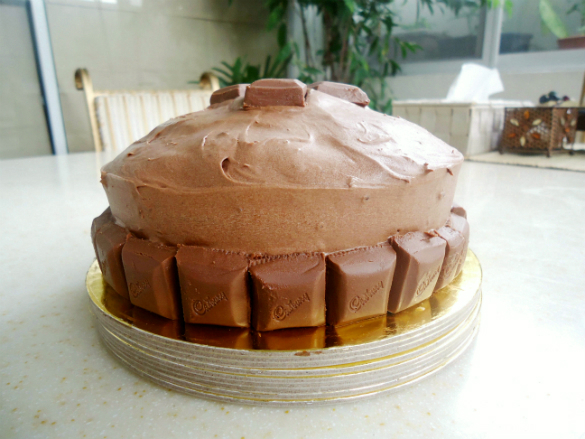 I only had about two hours to bake and prepare a homemade chocolate cake for my younger brother who was coming home from a retreat in the province. I wanted it to be a surprise because we weren't able to personally surprise him on the day of his birthday since he was out of town. So, I hurriedly prepared the cake batter and frosting, baked the cake and cupcakes, and frosted them just in time.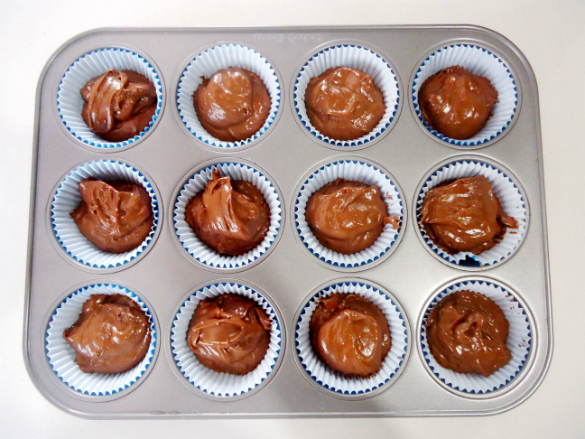 While I was making the frosting, I noticed that unlike the other batches of frosting that I made, this batch produced fewer cups. I felt that something was missing, but because I didn't have much time, I continued to frost the cakes. The frosting was very smooth, chocolaty, and creamy! It tasted like melted ice cream and it had just the right amount of sweetness!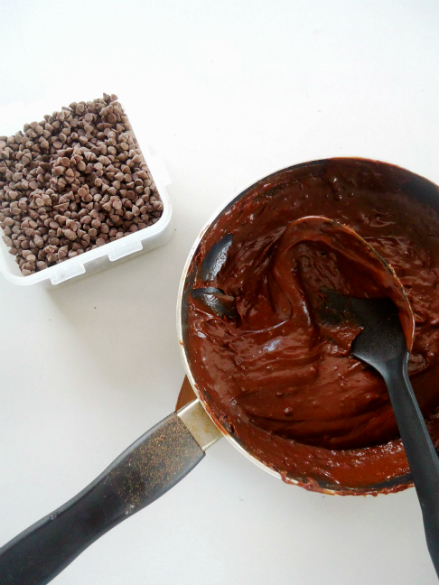 After eating dinner with the family at home, we brought the cake and cupcakes out and greeted our brother, Gabo, a happy birthday! By God's grace, the freshly baked cakes were light, fluffy, and moist and the family appreciated how the frosting complemented the chocolate cakes. Of course, Gabo also pointed out that we used his favorite brand of milk chocolate on the cake and I think he was happy about it. Yay! Haha.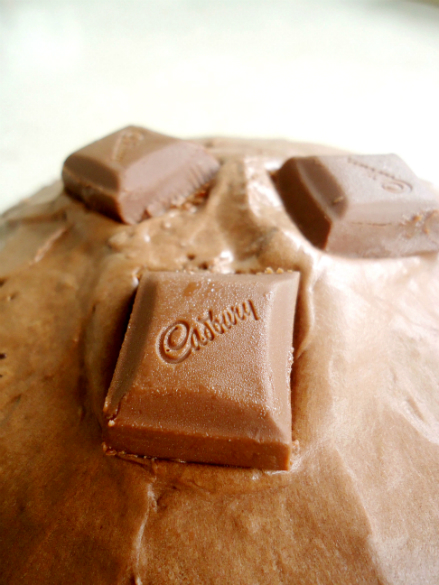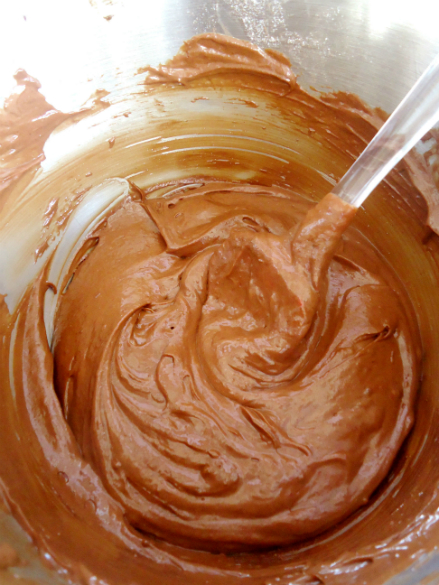 When it was time to clear the table and clean the dishes, I placed some of the cupcakes and cake in the refrigerator and stored the leftover frosting in a small plastic container. Just before rinsing the rubber spatula that I used, I dipped my finger on the remaining chocolate frosting on it and tasted it one last time before the night ended. I couldn't believe it. Immediately, I blurted out "Shucks. The butter. I forgot to add the butter!"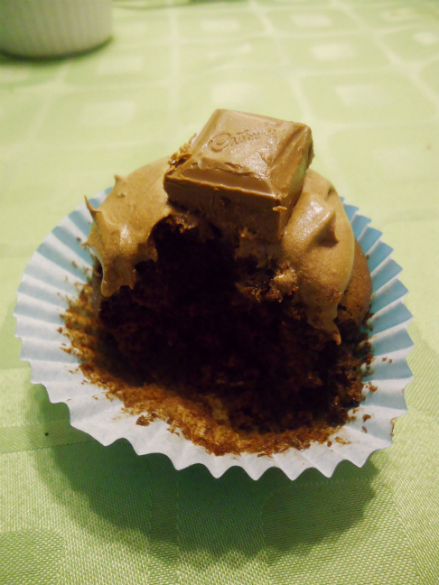 It was hilarious because earlier that day, I even made an extra effort to buy more unsalted butter for the cake that I was going to make and I forgot to use it. Hahaha! I felt bad at first because it wasn't the frosting that I originally wanted to make, but at the same time, I was grateful for it because it was a new discovery for me!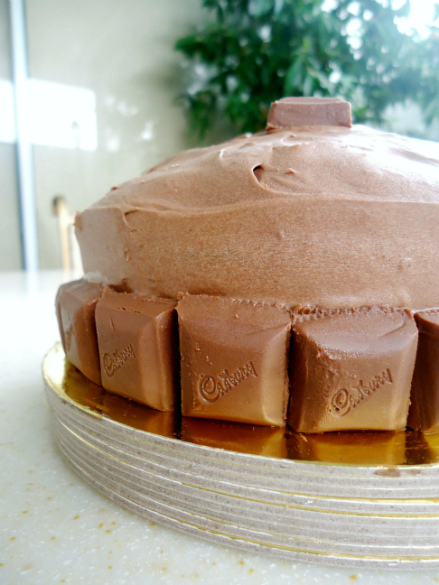 When I told my family about it, I also mentioned that I was actually planning on using 1 cup of butter for the butter cream frosting. And when they heard "1 cup" they immediately said "Then, it was a good thing that you forgot to add it. Haha."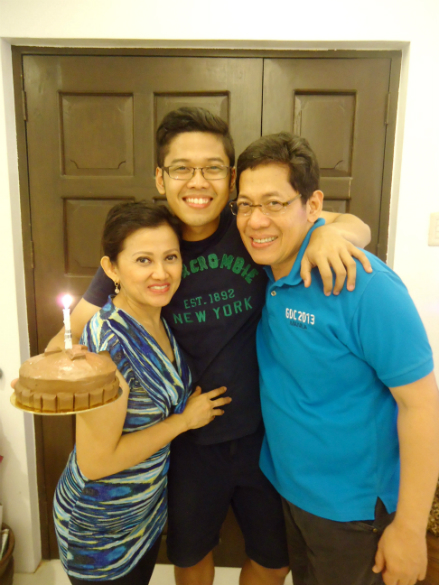 I love how God uses even the simplest mistakes made in the kitchen to remind me of how His grace is always more than enough for me. I was tempted to feel bad because I wasn't able to use butter cream frosting for the cake, but at that moment, that melted-ice-cream frosting was THE frosting that God wanted us to taste and enjoy. Plus, although it would probably taste delicious too, we were spared from indulging on butter that night. Alright!
It was a great reminder for me to keep on trusting that God is in control, that He knows exactly what I need, and that He is always more than enough for me. :)
"Many are the plans in the mind of a man, but it is the purpose of the LORD that will stand."
[Proverbs 19:21]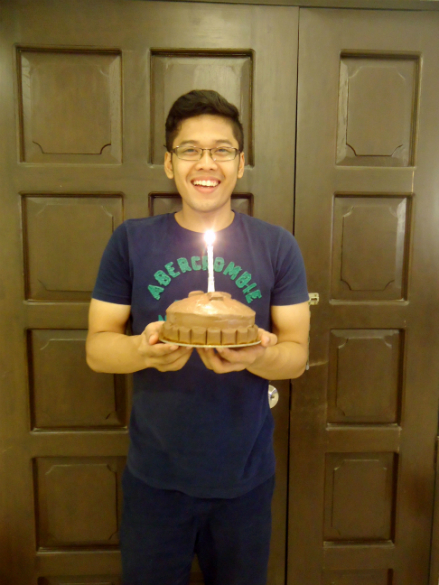 To my younger bro, 'Gaboot',
You're now 21 years old. Woohoo! We've had so many crazy moments together since we were kids and I know that we will continue to be crazy when we get older. But, by God's grace, I've seen you become more mature in different aspects and it has been a blessing for me to see you grow. I pray that God would continue to give you the desire to know, love, and serve Him all the days of your life. May He use you even more to reach out to others and share the love of Christ to those around you. And even though this stage in your life might be quite challenging, I believe that you can do all things through Christ who gives you strength. Psalm 105:4!
Lurve,
Le Butter. (HAHA. *inside joke*)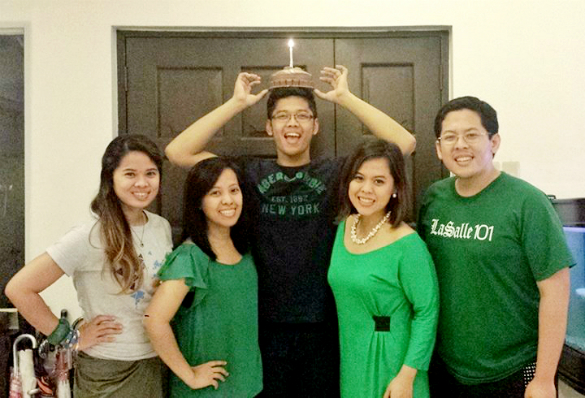 CHOCOLATE CUPCAKES*
1 cup all purpose flour
1/2 cup cake flour
1 cup unsweetened cocoa powder
1 1/2 teaspoons baking powder
1 teaspoon baking soda
1/2 teaspoon kosher salt
1 1/2 cups granulated sugar
1 cup (2 sticks) cold unsalted butter, cut into small cubes
4 eggs
1 cup plain sour cream
1 teaspoon vanilla extract
Steps:
Preheat the oven to 350 degrees F.
Stir the flour, cake flour, cocoa powder, baking powder, baking soda, salt, and sugar in a bowl.
Mix in the butter until the ingredients are well-combined.
Add in the eggs, sour cream, and vanilla.
Fill the cupcake liners and bake for about 15 minutes. Use a toothpick to check the center of the cupcakes if they're done.
Cool completely before frosting. I used Cadbury milk chocolate to design the cake too!
*Recipe adapted from http://bakingamoment.com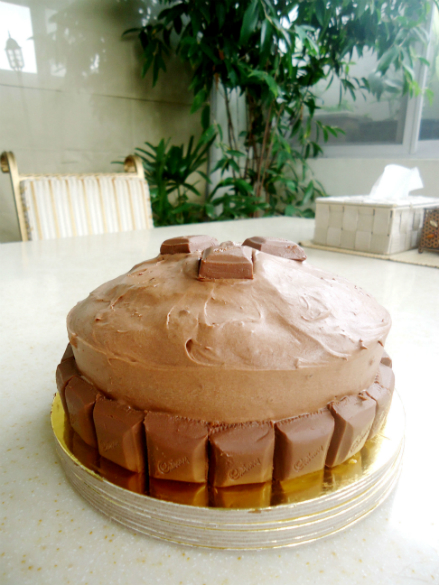 CHOCOLATE FROSTING**
1 cup milk
2/3 cup white sugar
1/3 cup all-purpose flour
3 tablespoons unsweetened cocoa powder
3/4 cup unsalted butter, softened
1 cup semi-sweet chocolate chips, melted
Mix the milk, white sugar, flour, and cocoa powder in a pan.
Bring it to a boil while stirring, until the mixture is thick. Set aside to cool.
Melt chocolate chips in the microwave. Set aside to slightly cool.
Whisk the chocolate mixture in step 1 with the softened butter, until creamy.
Add in the melted chocolate. Whisk until fluffy and well-combined.
**Recipe adapted from http://www.visionsofsugarplum.com
Encourage yourself one treat at a time. :)