While waiting for my mom and sisters at the mall, I decided to have my alone time at my favorite coffee shop. However, as I was walking towards the shop, I passed by a store named "Made In Candy" and I ended up staying there for more than an hour. Even though I've seen it a lot of times before, it was my first time to really appreciate their special candy and the awesome talent of the candy chefs.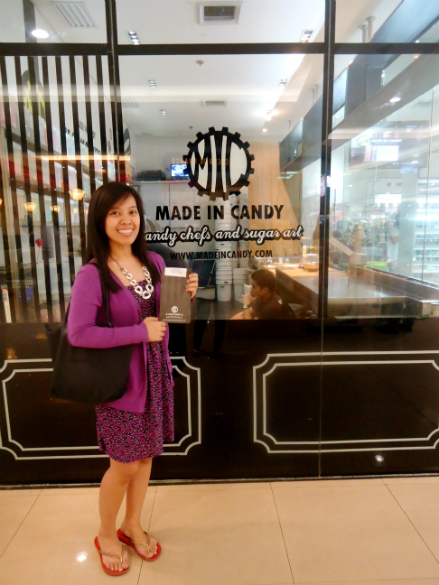 When I got there, there were about twenty people around me who were also watching the chefs push and pull the chunks of candy. It was an interesting moment because none of us knew what the chefs were doing. They just kept on piling one flattened "candy dough" on top of another and eventually rolled them into a huge log. I heard the two ladies beside me tell each other "I don't know what design he's doing and it's taking a lot of our time. Let's just leave."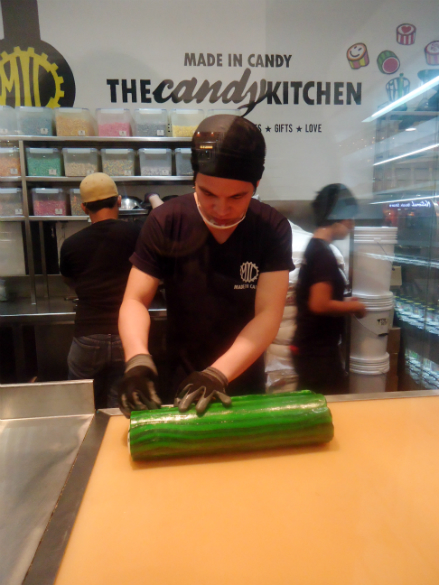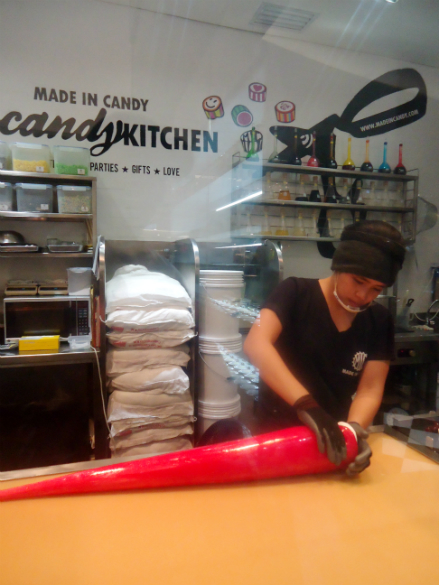 I didn't mind their comment at first because I was very fascinated with the candy chefs' skills. After about 15 minutes of working on the dough, a candy chef finally took one side of the stretched log, squeezed it, and pulled it until it reached their desired thinness. I, along with other curious viewers, continued to watch them stretch out thin strips of candies. One candy chef, then, took a few strips and quickly chopped them.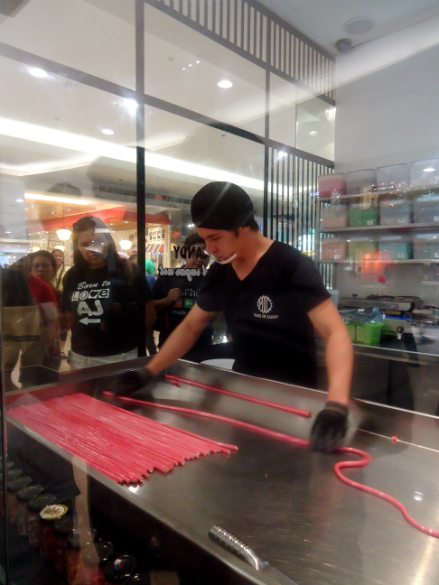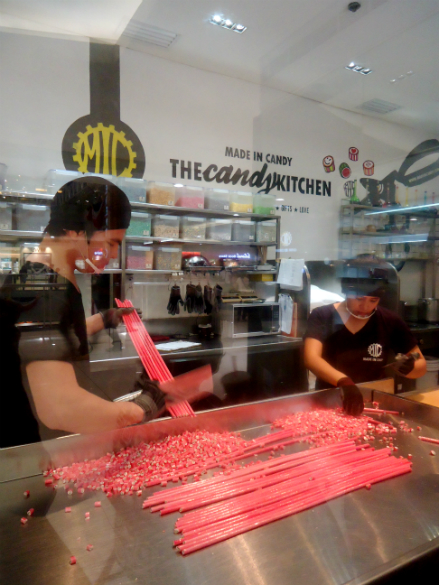 The result? A gorgeous batch of sweet and sour cherry-designed candy. It was amazing!!! The candy chef took a piece and showed it to us, the people who were watching from the outside of the store's glass walls. One of their staff members, then, got a bowl and filled it with the candies they've just made, walked outside of the store, and gave us all a piece or two to enjoy.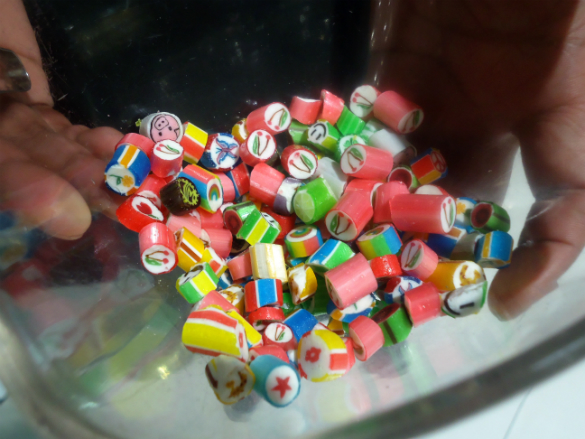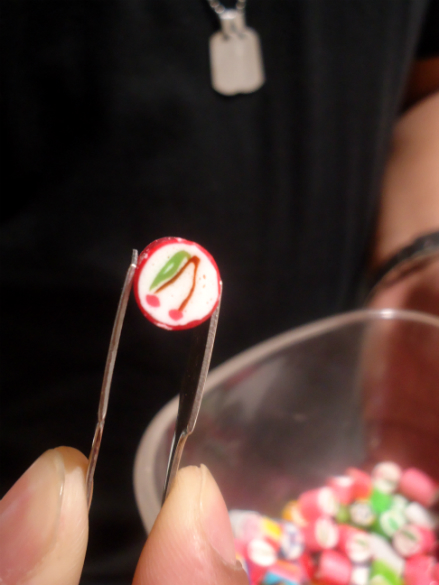 I really enjoyed that moment because God gave me the privilege of seeing the candy chefs work through the candy dough and produce amazing candies. Also, I didn't know they let the people taste their products every now and then.
Because I loved the experience so much, I went inside the store and checked out the other designs they made. The candies were beautifully made, indeed! I was even surprised to see words and detailed drawings in the center of the candies. How were they able to come up with such creative and cool masterpieces?? Hahaha.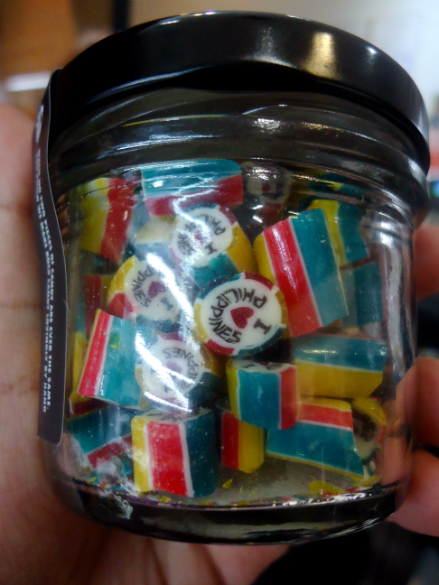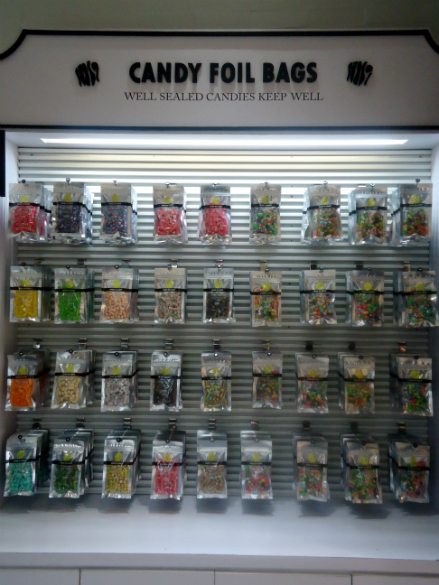 Before leaving the store, I knew I had to purchase a bag or a small jar with candies. So, I went around and searched for the perfect batch for me. As I was scanning through the candies on display, I noticed a statement printed on some of the products' plastic bag.
It said "When no two pieces of candy are ever the same, you know we make rock candy lovingly by hand."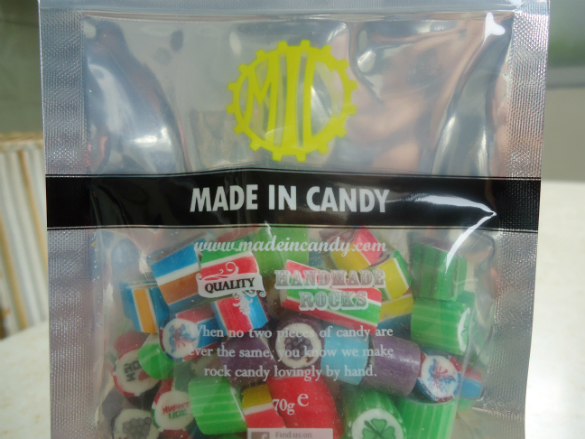 The first thought that came to my mind was "Hey! It's just like having unique fingerprints!"
In that simple moment, I was reminded of how God lovingly created us too. Because He made us, He knows everything about us. Our strengths and struggles, our heart's desires and fears, our past and future! He knows the motives of our hearts, our thoughts and next action steps, how to break and heal us, and He even knows when and how we'll hurt Him in this lifetime.
But our gracious God had a special plan and purpose for us all when He made us. In spite of how many times we've failed Him, He continues to help us get back on our feet and walk with Him again. Because of this, I am encouraged to constantly find my security in God — the One who lovingly crafted me.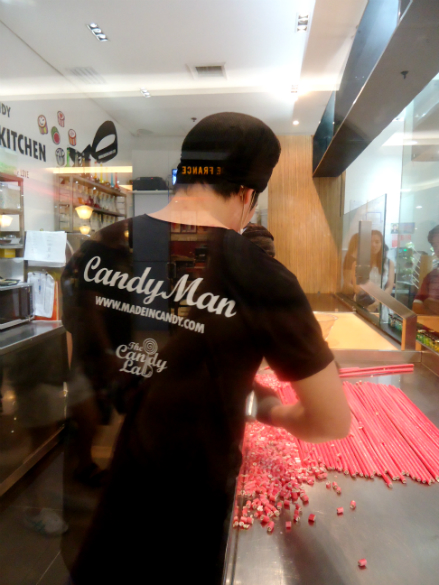 After enjoying my stay at the store for an hour, I remembered the two ladies who were beside me at the start. At one point, they focused on how long it was taking the chefs to finish the candy that they decided to leave instead. If they only stayed for a few more minutes, they would have had the privilege of enjoying the free candies from the store.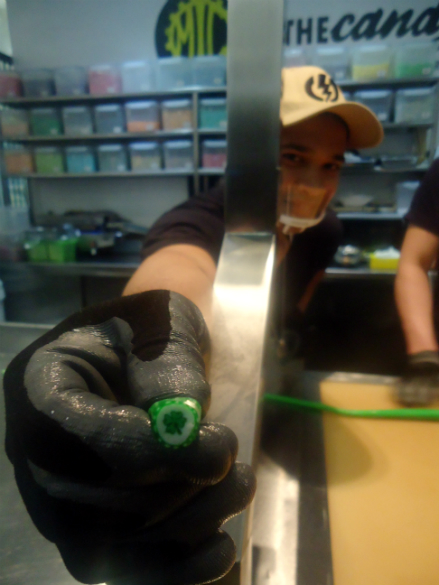 I pray that as I grow through the circumstances in my life, I will keep my eyes focused on God and on how He can continue to work in and through me and the people around me. I pray that my heart wouldn't be impatient and/or distracted with the things of this world that I lose focus on what matters most — my relationship with Jesus and sharing Him to others. The candy chefs at Made In Candy showed us their remarkable skills in transforming the candy dough to masterpieces. In God's perfect time, I know that He, too, will continue to transform and use our hearts and lives for His glory.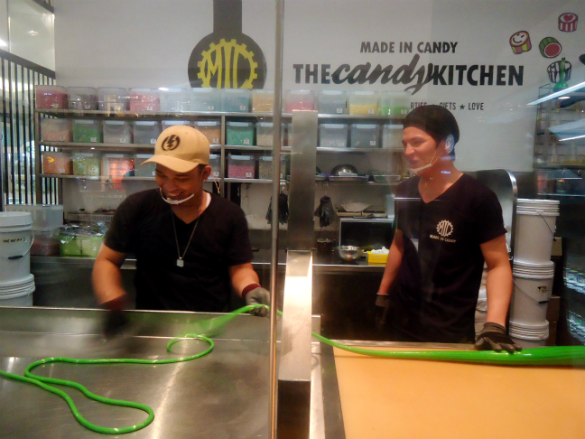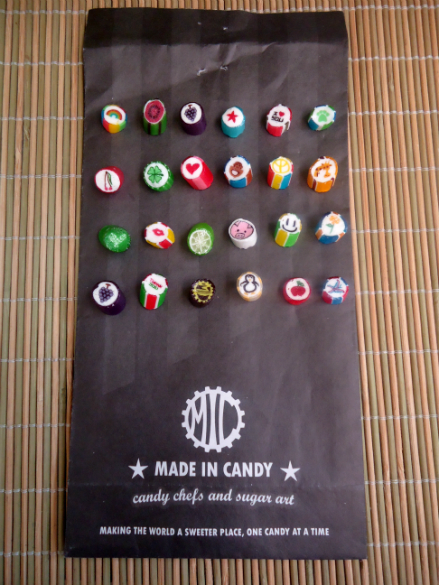 "Being confident of this, that he who began a good work in you will carry it on to completion until the day of Christ Jesus."
–Philippians 1:6
I'll post more photos of the products soon. :)
Special thanks to: Made In Candy at SM Megamall
Encourage yourself one treat at a time. :)